Laguna Lodge is a rain forest ecotourism lodge located on a narrow strip of land between the Caribbean Sea and Tortuguero Lagoon. Laguna Lodge offers 80 comfortable rooms, a swimming pool, and three bars – the main one on the edge of the lagoon and two others that are nearby the swimming pool area. Laguna Lodge is a good base for exploring Tortuguero National Park's slow-moving jungle canals and tropical lowland forest. Near the lodge is access to the beach known as the most important nesting site for the green sea turtle throughout the Western Hemisphere.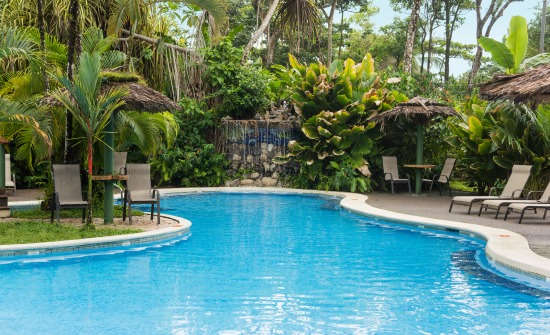 Thanks to the dedication of the local community and the hotel sector, the number of specimens has increased considerably in the last several years. Other types of sea turtles, including the leatherback and hawksbill, also nest on this beach.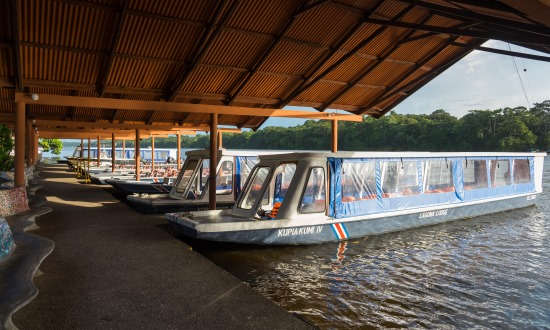 Enjoy guided boat tours into the surrounding canals and Tortuguero National Park, the pool, walking the private trails of the lodge and visit the open butterfly garden. Experience the best of the national park alongside the beauty of managed wilderness on the Laguna Lodge's grounds.
Dining at Laguna Lodge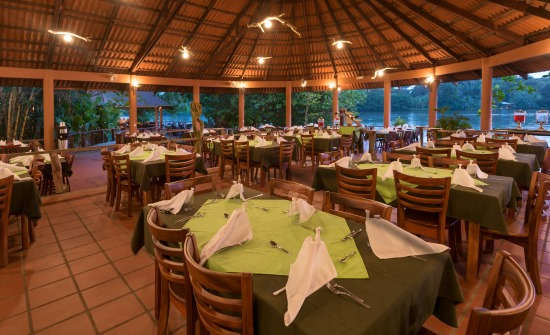 The open-air restaurant at Laguna Lodge is located right in front of the Tortuguero Lagoon, meaning stunning views of the forests nearby and the opportunity to admire the locals in their boats passing by on their way to the village.  Meals are buffet-style with plenty of fresh tropical fruits and vegetables!  The restaurant also makes sure to have coffee, tea, and cookies available, 24 hours a day!
Rooms at Laguna Lodge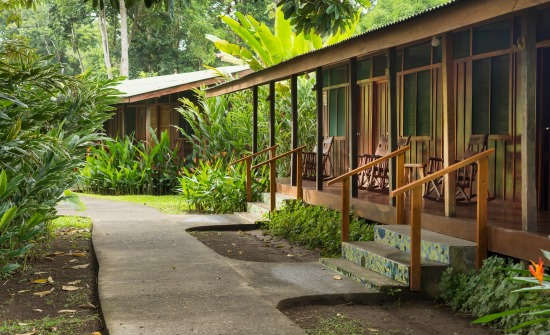 Laguna Lodge features 100 rooms spread over 6 acres of exuberant and beautiful gardens. Simplicity and blending with nature are the tenants follow at Laguna Lodge, and their simple and yet comfortable rooms are proof. Hardwood floors are in every room.  All rooms also have a small terrace, with rocking chairs, for relaxing in the mornings or evenings.