Reset your natural rhythm at the Harmony Hotel, located in Nosara on the Nicoya Peninsula. The hotel is a short two-minute walk away from Playa Guiones. Harmony's 24 rooms are designed with a laid-back luxurious simplicity in an area known for wellness, yoga, and surf.
Harmony Hotel Amenities
Harmony Hotel is a wellness hotel highlight located on Guiones Beach with an open-air yoga studio, chlorine-free pool, restaurant, and juice bar with fruits and veggies grown on the hotel's own farm.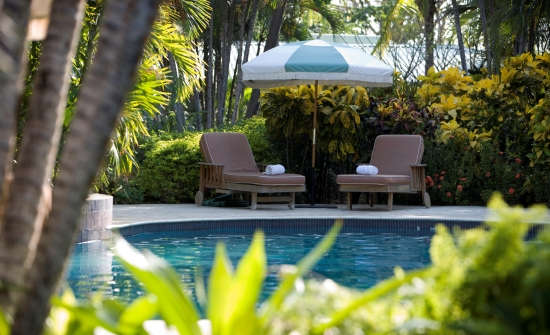 Activities from Harmony include yoga, birding, surfing, canopy zipline, kayaking, diving at Isla Rosa, horseback riding, and hiking.
Harmony Yoga
The Harmony open-air yoga pavilion is perfect for rediscovering your natural rhythm. Look out onto riotous greenery and listen to the gentle sounds of birds and geckoes. The pavilion is a soothing reminder to be present in the present – the lack of walls and mirrors are intended to help you focus. After a relaxing yoga class, visit the nearby lily-filled pond to see what animal friends came to visit.
Harmony Sustainability
At Harmony Hotel, there is a big emphasis on sustainable use of the land and conscious effort to reduce the hotel's ecological footprint by conserving water, recycling, composting food waste and surrounding the hotel with native species that can thrive using organic farming practices. Harmony Hotel received the five-leaf rating from Costa Rica's Certificate for Sustainable Tourism, and 85% of the hotel's waste is recycled. Solar panels provide renewable energy sources that heat the water for all guest rooms.
Dining at Harmony
The open-air restaurant at the Harmony seats 40 guests in a stylish but casual atmosphere that draws upon 70's surf culture, Brazilian Modernism, and old school tropical resorts. The restaurant serves organic fare whenever possible. The latest addition to Harmony dining is a new sushi bar! The Harmony Juice Bar is also favorite – and much of the produce used at the Juice Bar is produced on Harmony Hotel's own farm, which they started in 2009 on a simple half-acre of land. Using traditional methods, all of the produced foodstuffs are planted, cared for, and harvested all by hand.
Harmony Hotel Rooms
Harmony Hotel guest rooms sit on a path that meanders through a tropical garden and ends nearby the Pacific Ocean. All Harmony rooms include A/C, ceiling fans, King-size bed(s), Wi-Fi access in-room, and either a private patio or private deck. Rooms also all feature an outdoor sunflower shower, a hammock, and a seating area.
The 240 square ft Cocos Rooms surround the swimming pool and are the closest to the restaurant.
The 570-990 square ft One-Bedroom Bungalows at Harmony Hotel are placed throughout the beautiful gardens.
The 1,185 square ft Two-Bedroom Bungalow Suite includes sofas in each bedroom that can be used as twin beds and a large naturally-lit bathroom with a shower and tub. It also includes a wide wooden deck with privacy wall that wraps around the suite.
Harmony Villas
Harmony has two brand new 3-bedroom private villas tucked behind the hotel bungalows with access to all of Harmony's amenities and services.