Los Sueños Marriott Ocean & Golf Resort is a 201-room hotel within the Los Suenos Resort and Marina community. Discover the jungle and Herradura Beach from the comfort of a magnificent 1,100-acre upscale resort community on the Central Pacific Coast, just 2 hours from San Jose International Airport.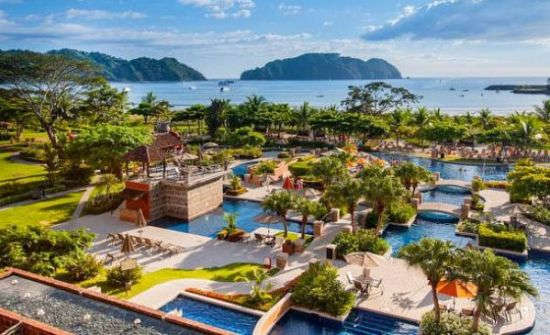 The Los Suenos Marriott Hotel is situated in an ideal central location for exploring regional attractions – if you can bring yourself to leave the resort!
Activities at Los Suenos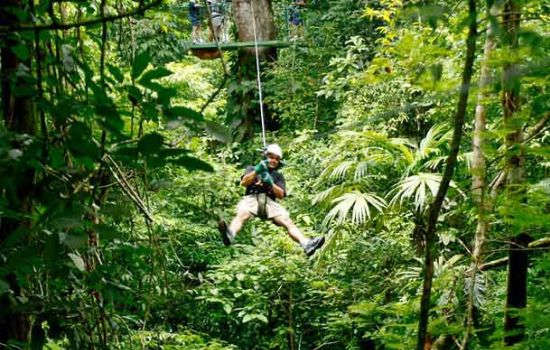 Los Suenos Marriott is nearly the perfect stepping-off point from which to begin an adventurous vacation. Take a tour of the volcano, cloud forest, or Manuel Antonio National Park, or go adventure canopy zip lining, whitewater rafting, or hiking on suspension bridges.
Spot exotic wildlife on the unique 18-hole championship golf course designed by Ted Robinson, or go sportfishing from the largest marina in Central America. On the property, guests will also find a spectacular outdoor horizon pool, casino, entertainment center, whirlpool, luxury spa and health facilities, and a jogging trail.
Los Suenos Marriott Restaurants
The Los Suenos Marriott has six restaurants to choose from on the property, and six more restaurants available at the nearby Marina. Even just dining at this resort is a treat, thanks to the number and variety of food options! From the hotel, visit Bar Ocho for lunch or dinner, and enjoy coffee tasting, ceviche, a taco bar, and handcrafted rum cocktails.
Transport to the 1960's when you visit 18 & Greene and enjoy the wood-burning grill and all the great elements of a good steakhouse. Don't feel like taking such a break from your day? Arrecife Pool Bar and Grill will serve up delectable foods and refreshing drinks at the swim-up bar or via poolside service. For a truly luxurious experience,  view out over the pool deck at La Vista Restaurant while trying out both International and Costa Rican cuisine. For a longer stay, guests will be pleased to know that there are also a wide variety of restaurants and bars nearby the resort as well, some of which are within walking distance.
Los Suenos Marriott Hotel Rooms
Room categories at the Los Suenos Marriott include Rainforest View King or Double Bed, Garden Terrace King or Double Beds, Ocean View King or Double Beds, Balcony Room with King or Double Beds, Ocean View Baloncy Room with King or Double Beds, Ocean View Master Suite with 1 bedroom and 1 king bed, and a Presidential Suite with 1 bedroom , 1 king bed, 1.5 bathrooms, ocean view, and balcony.
Resort accommodations include 191 spacious rooms and 10 suites, all equipped with high-speed Internet and cable TV. All rooms contain either 1 King-size bed or 2 double beds.