Situated on the South Pacific coast of Costa Rica, Hotel Three Sixty is the only adults-only hotel in Ojochal. This brand new boutique hotel was built on a 58-acre trail-lined rainforest reserve but takes up less than 8% of the landmass. Dramatic views of the rainforest, beaches, and distant islands can be enjoyed from the hotel's cliffside setting.
Amenities
Highlights of Hotel Three Sixty include open-air reception, infinity pool, gourmet restaurant, and a spa. Spa services include massages, manicures, pedicures, facials, and various spa packages. The Kua Kua Restaurant sources fresh and local ingredients by visiting area produce markets and fishermen each morning. Their Costa Rican/Swiss chef, Nelson Spichiger, serves up a variety of old and new culinary training techniques for a truly unique culinary experience. Bar 360 is the poolside bar with incredible views over the coastline and sunsets in the evening.
Villas
Hotel Three Sixty has two room categories: Premium Villas Ocean View and Deluxe Villas Partial Ocean View. Both rooms feature a king bed, air-conditioning, indoor rain shower, high-speed internet, flat-screen TV, refrigerator, daily maid and turndown service, an espresso coffee machine, and hairdryer.
Premium Villas Ocean View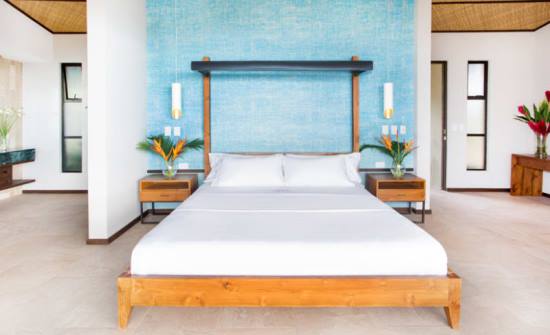 The Premium Villas have an incredible 200-degree view of the ocean and sleeps up to two guests, 16 years and older. The Premium Villa also includes room service for breakfast or an open-air dining experience on your terrace and a reserved table at the Kua Kua restaurant. The Premium Villas include all the luxury amenities of the Deluxe Villas.
Deluxe Villas Partial Ocean View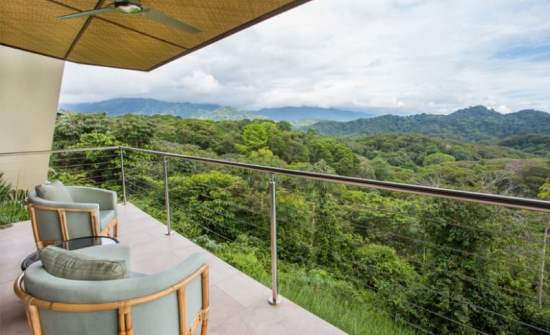 The Deluxe Villa features a partial ocean view and sleeps up to two guests, 16 years and older. Each spacious area has a king bed with a Simmons beauty rest mattress, linens unique created for the hotel, and Special Egyptian cotton towels. Raw Botanical toiletries are only available at the hotel.