Set in the heart of San Jose near La Sabana Park, this property offers sweeping views of the largest park in the city as well as the vibrant and trendsetting neighborhoods in central San Jose. With its prime location, modern accommodations, and high-end amenities, Hilton San Jose La Sabana is a wonderful option if you're in the city. 
Amenities
The hotel boasts 131 guest rooms and suites, a fully equipped fitness center and pool, and a restaurant and bar offering signature fine dining menus.
Cuisine
Offering an international menu, the restaurant on the 18th floor offers gorgeous views of La Sabana Park and the city as well as a fine dining experience. The lobby bar has a curated collection of cocktails and a smaller, trendy menu with light fare. Room service is available daily from 6:00 PM – 11:00 PM if you'd like to enjoy delicious meals from the privacy of your own room, and this property also offers a 24-hour convenience store onsite for quick snacks and treats when you're in a rush. 
Fitness Center & Pool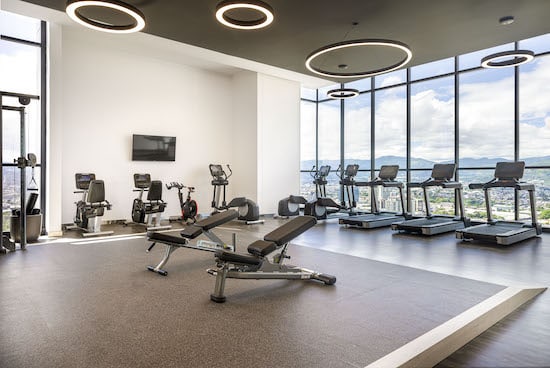 Hilton San Jose La Sabana features a state-of-the-art swimming pool and a fully functional fitness center stocked with high-end equipment provided by Life Fitness. Whether you want to take a dip in the pool and take in the city views or get your heart rate pumping in the gym, you can find both of these amenities on the 31st floor. 
Business Center
Sometimes duty calls, even if you're on vacation. If you need access to a desktop computer, remote printing services, or Wi-Fi, this property has a complimentary business center on-site for all your work-related needs. 
Executive Lounge
For executive-level guests, Hilton San Jose La Sabana's Executive Lounge offers complimentary breakfast, evening appetizers, non-alcoholic beverages, and an honor bar.  
Accommodations
Hilton San Jose La Sabana has a host of 131 rooms for varying types of travelers. Whether it's one of their sleek and functional Guest Rooms or a luxurious Presidential Suite, there are plenty of choices to customize your stay. 
Guest Rooms
Featuring a modern yet inviting aesthetic, Guest Rooms are outfitted with the latest technology and functional design. Each room offers Serta Bedding, a convenient work area with an ergonomic desk and chair, and complimentary Wi-Fi. 
Executive Rooms
These rooms are similar to the Guest Rooms in terms of space, design, and function, but with the added benefit of extra amenities. This includes bathrobes, slippers, and access to the Executive Lounge. 
Suites
Offering the same sleek style as Guest Rooms but with a more spacious footprint, Suites are a great option if you're looking to spread out a bit during your stay. These accommodations offer a separate living space in addition to the bedroom, allowing you to luxuriate in the gorgeous city views. Some suites offer balcony access, bringing the outside in and expanding your living space even further. 
Presidential Suites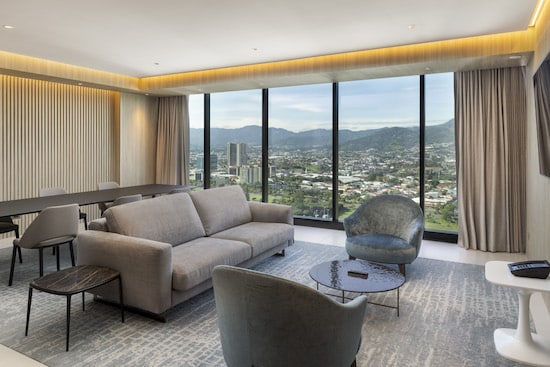 The highest level of room category, the Presidential Suites at Hilton San Jose La Sabana offer all the space and luxury of standard suites with added amenities. These additions include bathrobes, slippers, and access to the Executive Lounge.