This award-winning upscale wilderness resort lies within a remote 1,000-acre private rainforest reserve where the Golfo Dulce and the Pacific Ocean meet on the Osa Peninsula. The lodge is a fantastic wildlife and adventure experience ideal for couples and families with children age 6 and under. Guests of Lapa Rios will fly into the Puerto Jimenez domestic airport before being met and driven approximately 45 minutes to the lodge.
A Model of Sustainable Tourism
Lapa Rios is a model for Ecotourism and conservation around the world, winning awards from Conde Nast Traveler and being featured in many international publications. It is the flagship of the National Geographic's Unique Lodges of the World. The resort also received the Award for Corporate Excellence (ACE) 2005 presented by Secretary of State Condoleezza Rice. Additionally, Lapa Rios Ecolodge has earned all five leaves from the Costa Rica Tourism Board, a measure of sustainability in the tourism sector.
Lapa Rios Walking Paths
The lobby in the main lodge features a rooftop observatory 50 feet above the reception and dining area which connects to the pool and bungalows by walking paths and steep steps.
Please Note: Considerable stair climbing is required to get to and from the bungalows and the main lodge. Bungalow access requires stair and path walking. Please notify our Experts in advance if you have mobility issues and would like to stay in bungalow one or two located closer to the lodge.
Lapa Rios Activities & Tours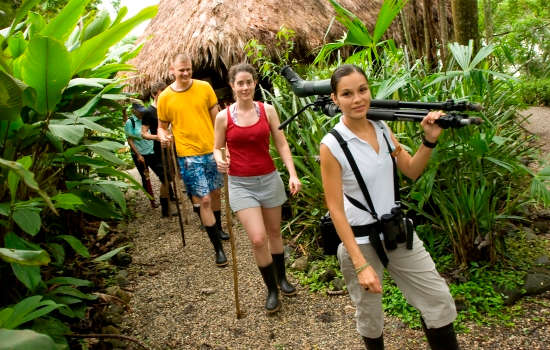 Wildlife on the Osa Peninsula is one of the main attractions. The Osa Peninsula contains 2.5% of the world's biodiversity and is home to all four Costa Rican monkey species, a variety of birds, and larger mammals. In addition to plentiful wildlife watching opportunities, the lodge has access to four undeveloped beaches and Corcovado National Park, one of the last remaining lowland tropical rainforests in the world. The nearby beaches offer gentle swimming, tide pools, and world-class surfing without the crowds.
Various activities are available from Lapa Rios Lodge that can be booked at check-in. Enjoy hiking along the reserve's private trails, horseback riding, boating and kayaking on the Golfo Dulce, and sport fishing on the Pacific Ocean. Numerous guided tours with professional naturalist guides are offered that include whale and dolphin watching, overnight jungle outings, zip lining, waterfall canyoning, waterfall hikes, and Corcovado National Park hikes. Lapa Rios also offers complimentary yoga three times per week on the yoga deck or the new deck near the pool area overlooking the ocean. Private yoga classes are available upon request with 24-hour notice. Discover more activities from the lodge.
Pan Dulce Beach
Pan Dulce Beach is directly accessible from the lodge. A light trek will bring you to Pan Dulce, which has a nice left surf break – perfect for learning to surf. A shuttle is available two times a day to bring guests back up to the lodge. So don't forget to ask reception for pick-up times if you want to avoid the trek.
Turtle Nesting from Lapa Rios
Four species of sea turtles come to the Osa Peninsula beaches each year to nest from May to January. Visiting the lodge during nesting season allows guests the opportunity to witness little sea turtle hatchlings making their way out into the ocean and to participate in efforts for sea turtle research and protection with the Osa Conservation, a partner of Lapa Rios Ecolodge. This is a fantastic opportunity for kids and adults! The following is the general time frame in which each of the four sea turtle species may be seen nesting near Lapa Rios:
Leatherback Sea Turtles: March – September
Hawksbill Sea Turtles: July – October
Green Sea Turtles: July – October
Olive Ridley Sea Turtles: June – December
Lapa Rios Amenities
Lapa Rios is an all-inclusive experience with all meals included from arrival to departure. Alcohol and some off-site tours are an additional cost. The lodge also has an eco-friendly salt pool with amazing Pacific Ocean views, a guide hut with books about biodiversity and trained naturalist guides to answer questions, multiple types of massage, as well as yoga and Chi Kung.
Please Note: Lapa Rios is located in a remote wilderness setting. The lodge does not have air conditioning, WiFi in bungalows, phones, TV, or radios on the property in an effort to minimize environmental impact and connect with nature.
Lapa Rios Bungalows
Lapa Rios Ecolodge has 17 luxurious Bungalows situated along a ridge in the 1000 acre rainforest reserve. All of them are identical except some have king beds and some have two queens. The bungalows can accommodate up to four guests.
The bungalows offer amazing views of the Pacific Ocean or Golfo Dulce from a spacious private viewing deck with a hammock and outdoor shower where monkeys and scarlet macaws can be seen. Coffee is delivered to bungalows daily for memorable mornings waking up to the sunrise and sounds of the jungle.
Each bungalow has a king size bed or two queen-size beds, breezy ceiling fans, two 110V electrical outlets (standard American), complimentary coffee service, twice-daily cleaning service, an outdoor and indoor rain shower, and open screened windows. The bungalows are situated along a ridge to catch the breeze and keep them cool.
Biodegradable soap, shampoo, and conditioner are provided by Lapa Rios Ecolodge as well, to minimize as much as possible the human impact on the surrounding beautiful landscape.
Lapa Rios FAQs:
Is the lodge luxurious or rustic?
Does Lapa Rios have bugs?
What should I pack for Lapa Rios Ecolodge?