Aguila de Osa Inn is located on the Osa Peninsula, situated on a high bluff overlooking the Aguitas river with panoramic views of Drake Bay. Aguila de Osa is an intimate eco-lodge set within a tropical rain forest offering comfort and seclusion with a touch of elegance. Adventure and the magic of nature come together at this amazing destination. Aguila de Osa is renowned for offering an experience of the pristine virgin tropical rain forest as well as an amazing array of water- and land-based activities.
Experience Nature in a Stunning Location.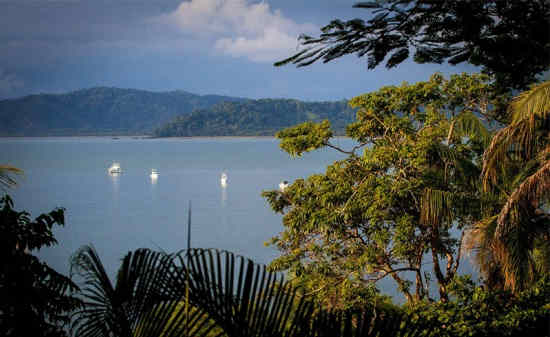 Guests delight in the nearby Corcovado National Park and the Cano Island Marine Reserve. Corcovado contains some of the last remaining old-growth rainforest in Central America, making it a beacon of hope to environmentalists and a fascinating glimpse into nature for everyone else! The animal life variety is astounding, and birdwatchers will have the time of their lives when exploring nearby – after all, the area is known to be home to over 350 different bird species. Very lucky guests might even have the chance to spot some of the endangered deep-forest creatures that once roamed throughout the country, such as the Baird's Tapir or the shy, yet fascinating Central American squirrel monkey.
Surrounded by colorful coral reefs and amazingly clear water, Cano Island is one of the best snorkeling and scuba diving areas in the country. Dolphins, sea turtles, whales, and even manta rays pass by the islands on their migrations, making it perfect for wildlife-watching tours via boat. Both of these areas attract many guests a year, ranging from 20-somethings seeking some fun and kids yearning to spend the afternoon ziplining to naturalists and scientists eager for the opportunity to investigate this biodiversity hot spot.
The Osa Peninsula is more than just a destination – in an increasingly urban world, Aguila de Osa offers the opportunity to experience a world of adventure and nature that simply can't be found anywhere else! Hiking, bird-watching, fishing, diving, snorkeling, kayaking, mountain biking, zip lining, whale and dolphin watching and horseback riding are all offered from this magnificent location – and it'll take more than one visit to see everything.
Aguila de Osa Inn is a dedicated ecolodge, determined to exist as sustainably as possible. By working with their local community, Aguila de Osa is preserving the environment for future generations.  Recyclables are collected and the resulting money is donated to make repairs and improvements in schools. All water comes from the Inn's own well. Food waste is composted and used on the hotel's organic garden.  The Inn is even involved in local children's education, taking donations and selling notecards to help the community with hiring a teacher.
Dining at Aguila de Osa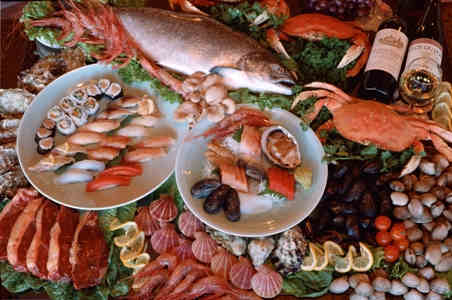 For an amazingly unique experience, guests can't go wrong with the Rio Selva Restaurant at Aguila de Osa! Combining the freshest produce with a simply amazing ocean view and an open-air dining area, Rio Selva focuses on doing simple and yet flavorful meals, containing all the amazing fruits, veggies, and fish you can find right in the area.  Like the cuisine of much of Costa Rica, while the focus tends to be on delicious natural flavors, guests will also find menus with foods ranging from crispy French fries and specialty cuts of beef to ceviche – caught just this morning! There's truly no comparing when it comes to the freshness and variety of foods Costa Ricans seem to love. Guests with dietary preferences will find the servers at the restaurant wonderfully helpful and the chefs have experience in producing specialties.
Aguila de Osa Rooms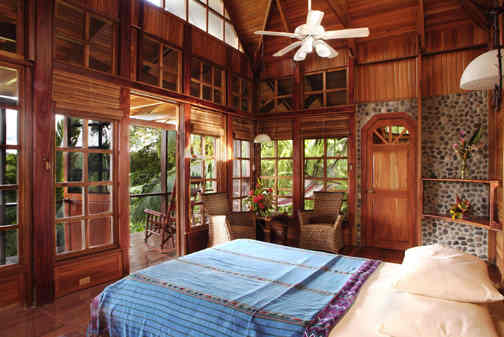 The 2 suites and 11 deluxe rooms, all of which are nestled neatly into the surrounding hillside, offer spectacular views of the lush, tropical jungle that surrounds the hotel. Rooms have hardwood floors and cathedral-style ceilings.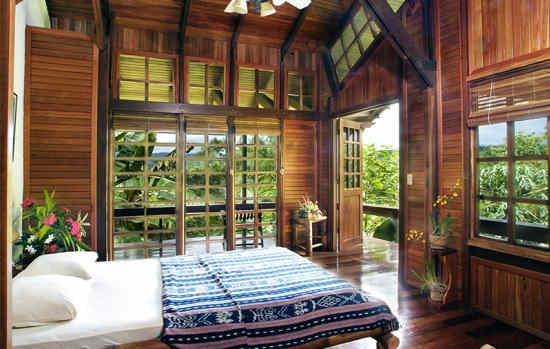 Aguila de Osa rooms include King or Queen size beds, ceiling fans, huge screened windows to allow the wonderful breezes blow through, spacious bathrooms with Italian tile, complimentary WiFi in the restaurant area, coffee maker and complimentary local coffee, and daily maid service.