Private cabins combine with dramatic, Jurassic scenery and abundant wildlife at the Playa Nicuesa Rainforest Lodge in the Osa Peninsula area.
Playa Nicuesa Lodge backs up to the wild Piedras Blancas National Park. To reach it, you'll take a flight into the little town of Puerto Jimenez before taking a picturesque boat ferry to the lodge.
Playa Nicuesa Activities
Upon arrival at the lodge, you'll want to check out and arrange tours in advance. Discover the on-site hiking trails or get to know the area with a knowledgeable guide. Guided tours include treks to waterfalls, birding, or exploring the garden.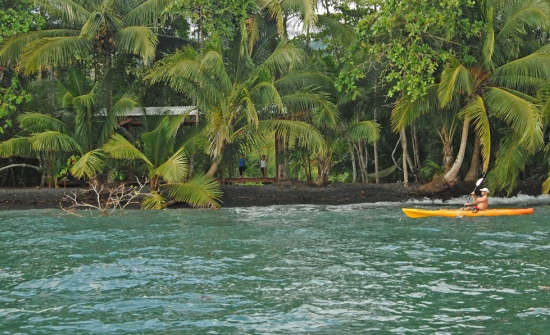 Take the complimentary kayaks to surrounding beaches to snorkel, catch the evening meal off the dock with provided fishing equipment, or sign up for a seaside yoga class. Nicuesa is a wild, secluded paradise, with inviting 80-degree water where wildlife abounds. Find quiet relaxation and adventure in unspoiled surroundings.
Playa Nicuesa Rainforest Lodge also hosts a highly qualified Yoga instructor for guests that would like to enjoy either morning or afternoon practice. In between classes, the open-air yoga pavilion is available for guests who need a quiet place for meditation. There are also a variety of massage options to enhance the overall sense of well-being during a stay at this amazing lodge.
Dining at Playa Nicuesa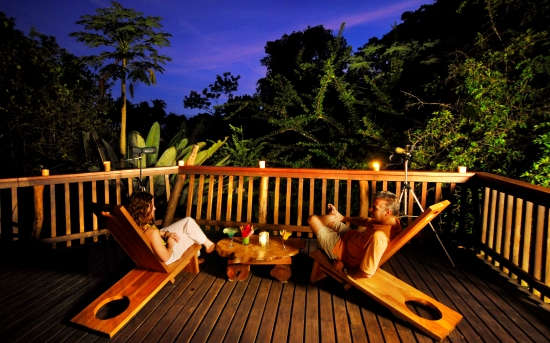 You'll discover a real treat when going for food at Playa Nicuesa! Besides the stunning setting, the lodge offers fresh, local cuisine. Fresh fruit, salsas, and juice are plentiful, thanks to the amazing variety of fruit-bearing trees that can be found on the private reserve – starfruit, mangoes, pineapple, papayas, bananas – the list just continues! The food is delectable, light, and filling. A children's menu is also available.
Playa Nicuesa Cabins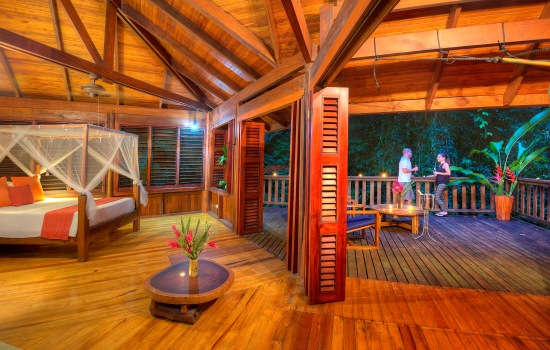 Completely immerse yourself in the rainforest. The lodge's private cabins, and the four-room Mango Guesthouse, offer privacy in a natural setting.
All cabins and rooms have canopied beds, ceiling fans, private terraces, and private baths with hot water and an open-air garden shower. The full-length louvre doors that wrap around your room and private verandas afford a panoramic nature experience.
Each cabin has its own private entrance, along with lovely hardwood floors. Cabins have Queen-size beds, or twin beds upon request, with mosquito netting. Playa Nicuesa cabins also have open-air showers for a truly liberating, yet private outdoor experience.