Enshrouded in the tropical forests of Golfito, you will find Cielo Lodge. This eco-lodge offers an authentic Costa Rican rainforest experience with luxurious and open-air architecture that brings the outside in. With its prime location across the Golfo Dulce from the Osa Peninsula, it's the perfect spot to return and relax and unwind after a full day participating in the plethora of activities that the region has to offer. Whether you want to put your feet up and lounge by the lodge's gorgeous infinity pool or take part in the many wildlife and wellness activities provided both on and off-site, there's something for every kind of traveler at Cielo Lodge. 
Amenities
Cuisine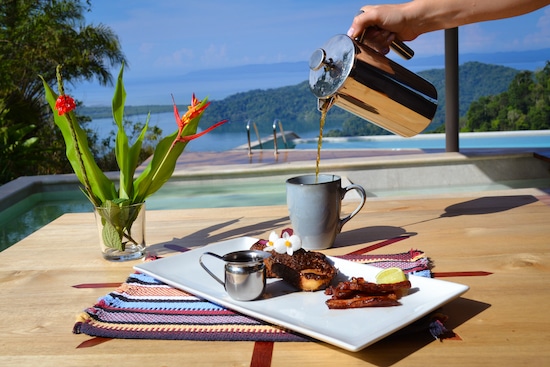 The main lodge has a restaurant and bar on-site, providing gourmet breakfast, lunch, dinner, and snacks for guests. The kitchen team is dedicated to excellent service and will cater to any allergies or dietary needs you may require. The menus are seasonal, as the ingredients are locally sourced and homemade for a truly unique and high-end dining experience. 
Wellness & Relaxation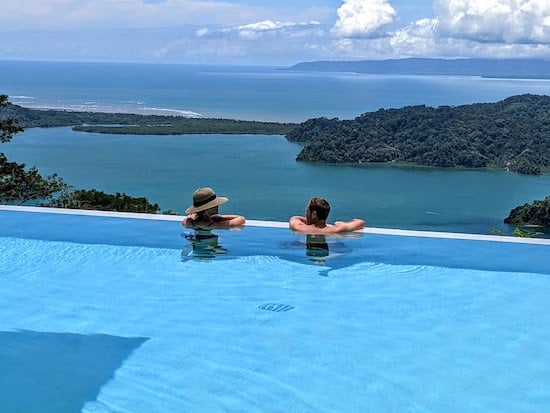 The lodge has a selection of wellness-focused activities offered on-site at no extra cost. Feel free to ask the concierge about cooking classes with the kitchen team to learn how to create sustainable and locally sourced Costa Rican delicacies, private boat tours to secluded beaches on Golfo Dulce, or even guided grounding, earthing, and forest bathing excursions in the forests surrounding the lodge. The infinity pool at the main lodge has also been designed for peak relaxation if you are looking to simply take in the atmosphere and views while you unwind. 
Wildlife & Nature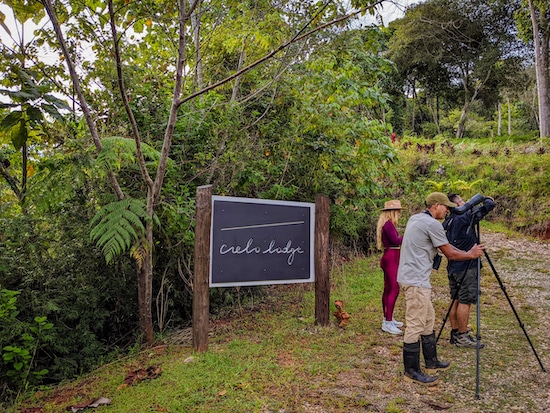 Along with the wellness and relaxation activities noted previously, Cielo Lodge also offers a handful of wildlife and nature-focused experiences at no additional cost. Speak with the concierge to book a mangrove boat tour, dolphin and whale watching excursions, guided early-morning birding, waterfall hikes, and night tours to catch a glimpse of Costa Rica's nocturnal critters. Given the beautiful natural setting of the lodge, wildlife and nature experiences are at your fingertips. 
Accommodations
Cielo Lodge is a smaller property with one main lodge housing the restaurant, bar, and concierge services, and six One-Bedroom Canopy Suites tucked around the property. Each One-Bedroom Canopy Suite can comfortably hold up to 4 travelers, with the highest maximum occupancy of 24 people on-site at one time. The small number of suites and the forested layout of the lodge lend itself to a private and secluded experience throughout your stay.  
One-Bedroom Canopy Suites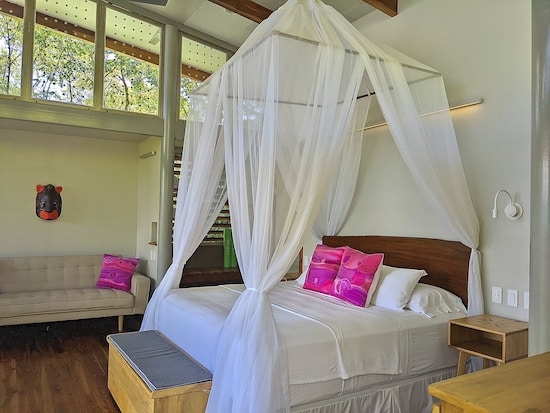 Each One-Bedroom Canopy Suite averages about 660 square feet with airy architecture and minimalist design. There is one king-size bed and one full-size sofa bed, private ensuite bathrooms as well as a second private outdoor shower, and covered decks with hammocks and seating. Though Cielo Lodge does not have air conditioning, each suite is outfitted with ceiling fans to maximize airflow.