El Mangroove Hotel, a luxury boutique hotel just 20 minutes from Liberia International Airport on Papagayo Bay, covers 17 acres and rests along 1 mile of Guanacaste beach front. This fun and trendy beach hotel is nestled among both mangroves and forests for a truly unique beach experience.
El Mangroove Amenities
El Mangroove is dedicated to delighting the senses! Try out their 24-hour private dining, poolside cabana service, a resident DJ, outdoor yoga decks, Spa, Fitness center, pillow and signature scent menus, and complimentary Wi-Fi.
El Mangroove Wellness
El Mangroove Hotel believes in offering the best of the best to all visitors, and they attempt to combine fitness, wellness, and their natural surroundings to offer a completely rejuvenating and relaxing experience.
The Bearth Spa offers treatments such as a soothing volcanic massage or an aromatherapy body polish. The Wyl gym is open 24 hours a day, and offers both indoor and outdoor routines as well as having personal trainers available to help any guests.
Book a sunset yoga session on the terrace for the ultimate wellness and relaxation experience before dinner.
El Mangroove Dining
El Mangroove's cuisine is simple, yet scrumptious. Farm-to-table and ocean-to-table ingredients define the culinary offerings at both of the hotel's on-site restaurants: Makoko and Matiss. Think sustainable comfort food, with a mix of international and local dishes! Dine at Makoko Restaurant for elegance and contemporary cooking techniques, while the cool and casual Matiss features a beach-inspired menu.
Whether you're looking for the catch of the day served up as stylishly as possible, or a decent burger to sink your teeth into – El Mangroove's dining options are perfect for any visitor! 24/7 room service is also available.
El Mangroove Hotel Suites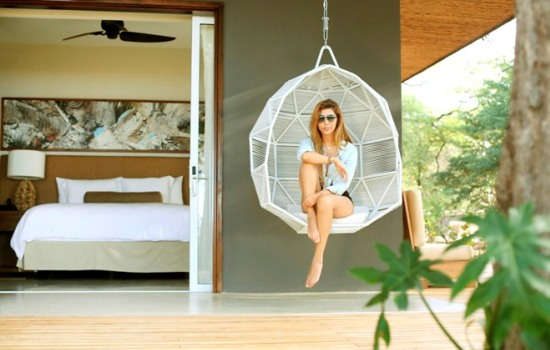 El Mangroove has 85 suites that combine the comfortable simplicity of Costa Rica with regional artwork and contemporary touches. Each suite is located within one of the two to three-story buildings, both of which sit amongst the mangroves. All suites include A/C, WiFi, refreshment station, and a work station. The attention to detail is sublime – El Mangroove Hotel even offers coloring books and rainbow pencils for the child-at-heart!
The Bark Suite (king bed) and the Nesto Suite (2 queen beds) both are 485 square feet with 1 42″ plasma TV, docking station for Ipad/Iphone, hair dryer, mini bar, walk-in closet and living room. The Bark Suite also includes a hammock.
The slightly larger, 678 square feet, Root Suite has a king-size bed and sofa bed, 2 42″ plasma TVs, docking station for Ipad/Iphone, hair dryer, mini bar, walk-in closet and outdoor terrace.
The Habitat Superior Suite has the same amenities as the Root Suite, but is 732 square feet and also includes an outdoor terrace, hammock, and living room area.
The Crown Superior Master Suite (mangrove/jungle view) and the Canopy Grand Master Suite (ocean views) feature 1200 square feet of space with king-size and sofa beds. The master suites include an outdoor terrace and living room area with 2 42″ plasma TVs, docking station for Ipad/Iphone, hair dryer, mini bar, and walk-in closet.
The Presidential Mangle Suite features a private, outdoor sun deck and plunge pool with ocean views. This 1668 square foot suite has a king-size bed and sofa bed with direct beach access, a kitchen, private chef station, living room, and 2 42″ plasma TVs. The Mangle Suite can also connect to the Nesto Suite.