Surrounded by the breathtaking landscape of Guanacaste, you'll find the Suitree Experience Hotel hidden in the trees. This boutique hotel is designed as a modern take on the childhood whimsy of treehouses, boasting gorgeous standalone suites elevated high above the lush vegetation below. The property also hosts an on-site restaurant, a swim-up pool bar, a lookout tower, and a tranquil massage spa. Embrace the sanctuary Suitree Experience Hotel offers and take some time to reconnect with your inner peace among the trees. 
Amenities
Taru Restaurant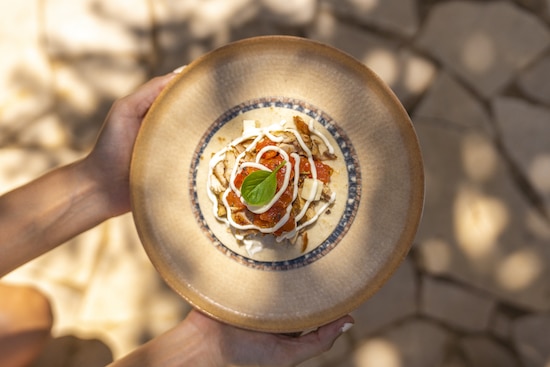 Deriving its name from the word "Taru" in the indigenous language of the Chorotega, which translates to "Us," Suitree Experience Hotel's restaurant stands out as a blend of cultural heritage and modern luxury. Offering fresh, locally sourced products, Taru Restaurant infuses harmony and connection into each and every dish, providing a culinary experience you won't soon forget. 
Swim-Up Pool
This property provides a unique swim-up pool bar experience so you can sip cocktails while lounging on semi-submerged seating in the water. Luxuriate in the open-air setting and snack on small bites without having to leave the pool. 
Suitree Stone Pool
Designed to mimic "pozas," or the phenomenon of pools of still water shaped by stone formations in the midst of rivers, this swimming area is an homage to the waterways of Guanacaste. Use one of the convenient sunbeds and umbrellas to relax on the wooden deck or jump into one of the clear basins to cool off. 
Mirador Lookout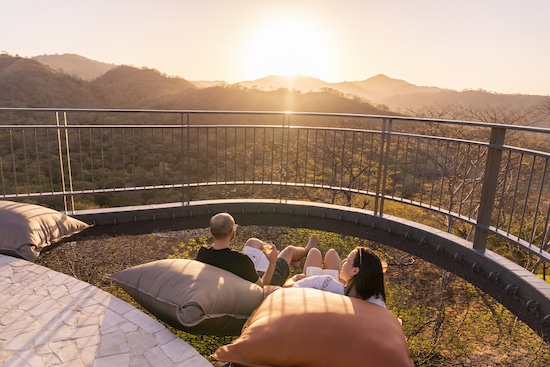 If you want a 360-degree view beyond your suite, look no further than Suitree Experience Hotel's iconic Mirador Lookout. The lookout tower is perched 9 meters above the ground and hosts 3 netted lounge corners where you can snuggle up with comfortable cushions and take in the gorgeous scenery. The hotel offers telescopes and speakers upon request, so you can customize your lookout experience while seeing the sprawling beauty of Guanacaste. 
Massages
When you find yourself with a free afternoon and need a bit of a refresh, don't hesitate to book a highly acclaimed massage at the hotel. As Suitree Experience Hotel focuses on sustainability and wellness across the board, it should come as no surprise that their skilled massage therapists are dedicated to creating a tranquil and personalized experience. 
Accommodations
As Suitree Experience Hotel is a boutique property, there are only a handful of accommodations available, and all are designed with privacy in mind. This ensures a peaceful and truly unique experience for all guests, whether you want to stay in one of their three famed treehouse suites or the cozy and welcoming garden bungalow. 
Treetop Suites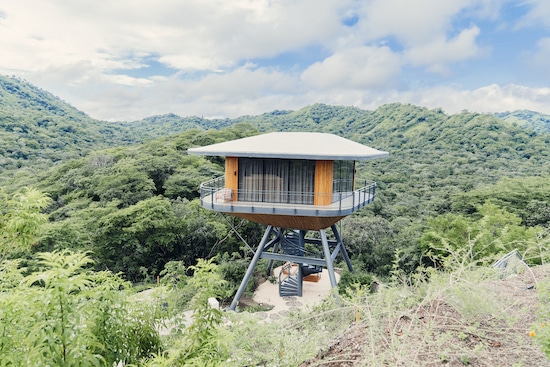 All three treehouse suites are spacious and airy with floor plans that stretch 110 square meters each, offering a truly luxe atmosphere where you can relax and unwind. Each suite has a king-size bed, a private balcony, and a terrace with hammock seating. One treetop suite boasts a jacuzzi tub on the terrace, and another claims a gorgeous view of the pool. All suites come equipped with high-end amenities and sweeping views of the mountains and forests below. 
Bungalow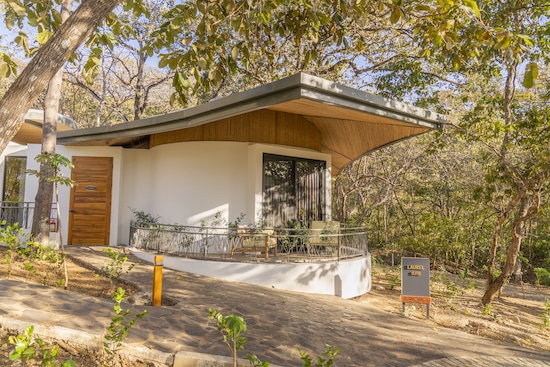 For those who find more comfort on the ground, the bungalow at Suitree Experience Hotel provides a private and welcoming layout with a lovely view of the gardens outside. Offering a private deck and accessible entry, the bungalow is the perfect option if you're looking for the same high-end finishes and unique design of the treehouses while maintaining a level of ease and comfort.