Kura Design Villas is an exclusive adults-only retreat on the South Pacific Coast with eight villas overlooking the famous whale's tail where the rainforest covered mountains tumble on to pristine beaches. Built on an impressive mountain ridge outside the town of Uvita on the Bahia Ballena, Kurà´s tropical minimalist architecture provides a luxurious romantic vacation experience and breathtaking Pacific Ocean views.
Kura Design Villas Amenities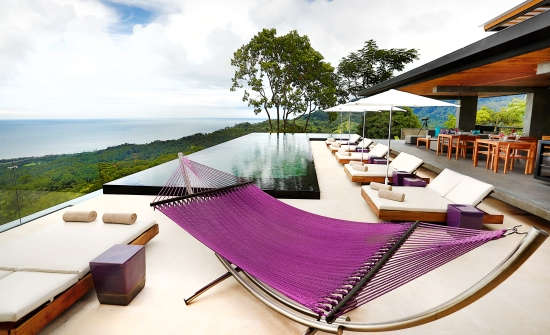 Featuring eight luxury villas, a 62-foot infinity salt water pool with 180-degree views of the Pacific Ocean, and a spectacular outdoor poolside lounge and spa area, Kurà is the perfect place to indulge your senses. Living in harmony with their surroundings, Kura incorporates alternative sources of energy: solar panels, solar water heaters, rainwater collection systems, energy efficient fans, and LED lighting. The hotel also has a private helicopter pad for incoming guests.
Activities
This area is known for Marino Ballena National Park, one of the best destinations in Costa Rica for whale watching. The best time to see whales here is from mid-July to early November with humpback whale populations peaking in September and October and again from mid-December to April. Just be sure to book a whale watching tour! The park gets its name from the sandbar formation that emerges at low tide in the shape of a whale's tail. The whale's tail provides shallow, protected water great for stand up paddleboarding, swimming, and snorkeling. There's also a mangrove forest located nearby to explore by kayak or stand up paddleboarding. Guests can utilize Kura's private helicopter pad for a day tour to the nearby Corcovado National Park or to snorkel at Cano Island. Kura Design Villas has a Daily Experiences board available for guests to review the hotel's happenings. Complimentary yoga classes are offered weekly at 5:00 pm on the rooftop overlooking Marino Ballena National Park. Private yoga is always available upon request.
Kura Dining
Kura Design Villas is truly more than just a place to stay – it becomes an experience in its own right! Visit the Sky Lounge, with 360 views of the dense jungle greenery and the vast ocean. Take a second visit to the Sky Lounge at night to be transported into the best of romantic experiences – with a stunning array of stars that transform the spot into a magical hideaway.
At Kura's open-air restaurant, guests will have a chance to enjoy some of the best gourmet traditional and fusion Costa Rican cuisine. The simple and yet creative menu focuses on local and organic ingredients, and all seafood served is 100% sustainable. In the evening, enjoy the special Kura cocktails served up at Diablitos Bar. Savor an ice-cold beer while gazing out at the rainforest and wildlife-spotting with their telescope! Heading down to the beach for the day? Kura is happy to pack a picnic lunch for you to bring along on your beach excursion!
Kura Design Villas
Each of the eight exclusive rainforest villas reflects clean tropical minimalism with local indigenous style. All the Kurà Design Villas share an open floor design with floor to ceiling windows for incredible views. Each villa includes the following amenities: King size bed with luxurious sheets and duvet, spacious private terrace with glass veranda, double rain shower with ocean view, sliding glass door facade for gentle, free-flowing sea breeze, low energy inverter AC system, binoculars, free wireless internet, private minibar and wine cellar, iPad, espresso coffee machine, personal safety deposit box and nightly turndown service. Maximum occupancy for all villas is 2 guests.
Junior Suite Villas
The Junior Suite Villas are great for those who want to keep an eye on the wildlife, as they are located closer to the forest.  They also have ocean views. The Junior Suite Villas have double hammocks and double showers.
Infinity Suite Villas
The Infinity Villas are slightly larger than the Junior Suite Villas with extra-wide terraces for guests who want to spend time in the sun, enjoying the inspirations of ocean and jungle views.
Master Suite Villas
There are two Master Suite Villas both at over 1,000 square feet. These are perfect for romance and honeymoons, with ocean and jungle views. They are located at the highest point of the property with the most commanding views. Both suites have private outdoor infinity plunge pools and outdoor showers.
Note: Kura Design Villas permits adults age 16 and older.