Rio Celeste Hideaway is a secluded hotel in the Guanacaste region of Costa Rica.
The biggest attraction for visitors is the brilliant blue waters of the river that the hotel is named for.
Rio Celeste Hideaway Restaurants
With all Rio Celeste Hideaway has to offer, you'll never want to leave! Indulge in delectable breakfast, lunch, and dinner in the open-air Kantala Restaurant. The tranquil ponds and colorful koi, along with tropical plants, will make your world-class culinary experience a treat. Fresh, local ingredients promise the very best!  Feel like drinks after that delicious meal?
The Cantina Delirio is a stylish lounge with a wide selection of beers and liquors. If you're spending the day at the pool, the Luna Azul will delight with personalized service and great music at the swim-up bar, or light lunch is a perfect choice for a day spent on the pool deck.
Rio Celeste Hideaway Rooms
The Rio Celeste Hideaway features 26 casitas that reflect the natural settings, with wood floors, bamboo ceilings, and secluded outdoor showers. The spacious decks are great for relaxing to the melodies of the tropical rainforest. The Hideaway's tropical architecture and lush greenery will make nearly any guest feel right at home in the rainforest!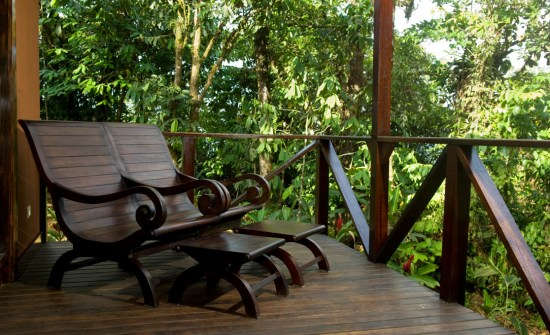 The Casita Forest at the Rio Celeste Hideaway Hotel offers one King-sized bed or two Queen-sized beds, a 32″ television, spacious bathroom, a private garden, an outdoor shower, and stunning lush garden views.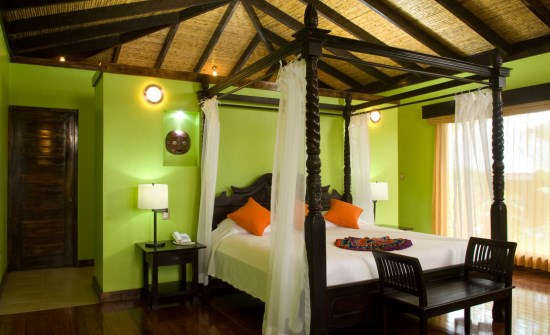 The Casita Suites contain all of the same amenities, along with decks that have views into the rainforest – simply incomparable. In the Casita Suites, relax into the luxury of a Jacuzzi jetted bathtub. His and her vanities mean plenty of space for both of you!