Located 30 miles South of Puerto Limon on the Caribbean Coast, Samasati Nature Retreat sits on 250 acres of untouched tropical forest. With stunning ocean views and an incomparable location, Samasati is a tropical sanctuary from the stresses of life.
Samasati Nature Retreat is almost completely surrounded by national parks and other protected areas. This truly makes it a one-stop-shop for many of the amazing activities that have made Costa Rica a prime destination. Daily shuttle service brings guests to the vibrant town of Puerto Viejo, where surfers and snorkelers will find world-class spots, and the beaches are stunning for a day of relaxing. The lively array of coffee shops, boutiques, bars, and restaurants keeps Puerto Viejo fun and fascinating even when not lounging on the beach! Along with just exploring, nearby activities include bird watching, snorkeling, horseback riding, dolphin spotting, and white water rafting.
Yoga at Samasti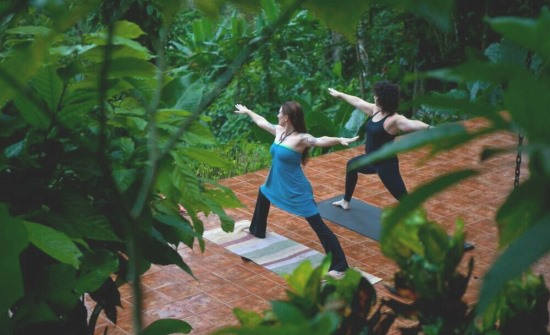 Yoga is also a central component of the Samasati philosophy. As a pioneer in Costa Rica for sustainable travel and yoga retreats, Samasati stays true to their origins with frequent yoga retreats still hosted, twice-daily yoga classes for hotel guests, and a huge variety of guest artists providing experiences and classes ranging from a martial arts workshop to tai chi or attempting yoga on a stand-up paddleboard. Both of the yoga practice areas on the property are expansive and surrounded by verdant jungles and gardens – bringing nature into your meditation!
Samasati Retreat Amenities
Health and wellness are at the forefront of Samasati's world. With a focus on natural remedies, the spa at Samasati is impeccable. Expect everything from a divine deep-tissue massage to an intense mocha body scrub or Ayurvedic Yoga massage. Samasati spa encompasses a variety of international techniques to ensure guests leave feeling relaxed and rejuvenated. After your treatment, visit the outdoor Jacuzzi for beautiful views, or spend some time relaxing in the Gazebo.
Samasati Restaurant
Samasati's open-air restaurant has a unique backdrop.  Sitting high in the rainforest, guests are treated to stunning views looking down to the Caribbean beaches that rest below. As much of the food is locally-sourced as possibly, with seafood daily being fished from the ocean, fresh bread baked daily, and local farmers producing the fruits and vegetables. Organic products are first-picks for ingredients. The menu at the restaurant changes frequently to ensure that guests are given the highest-quality and freshest cuisine possible. Given advanced notice, Samasati's kitchen is particularly experienced with preparing dishes for guests who prefer raw, vegan, soy-free, gluten-free, or dairy-free cuisine.
Samasati Rooms
Samasati Nature Retreat features 3 different room levels for travelers.
The Guest House is only a short walk from the restaurant. This is an ideal place to stay for single travelers or budget-conscious groups. It contains 5 private rooms with two shared bathrooms, one for women and one for men. Guests can choose from either two single beds or one double bed in the room.
Samasati's Casitas are wooden cottages built using reclaimed wood from the area, making them not only comfortable but sustainable! With an expansive veranda overlooking either the rainforest or the Caribbean Sea, there's much to be said for the impressive view. Casitas are designed to hold 2-4 travelers. There is one bedroom on the main floor of the casita, and a few of the cottages also feature a second bedroom in the loft.
The premium accommodation at Samasati is the Casa Grande. Perfect for groups or families, this 4-bedroom lodge is just a few minutes away from the restaurant and reception area, tucked into the exquisite, untouched rainforest. The Casa Grande features 2 bathrooms, private parking, a full kitchen, rainforest, and Caribbean sea views, and an oversized balcony with hammocks – perfect for watching the sunset or curling up with a book!