Villa Calatea is a two-bedroom, two-bathroom villa set on The Springs Resort property in the Arenal Volcano region. Villa Calatea is a great option for a family or two couples traveling together, and Arenal Volcano is a fantastic region for exploring hot springs, the volcano, and various adventure activities.
Amenities
Villa Calatea is located only steps aways from the Perdidos Hot Spring Pools, the Los Perdidos Bar, and the Monkey Slide. Your stay includes unlimited access to all resort pools and hot springs. Guests of the Calatea Villa will also have access to a four-seat golf cart available for personal use throughout your stay.
Exterior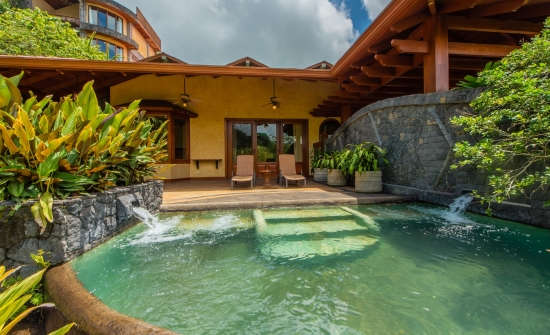 The 1,862 square foot outdoor living area features a terrace with a heated infinity plunge pool, sundeck, dining space as well as a private master terrace with its own sundeck and covered lounge space with two hammocks. The second bedroom also has a private terrace garden with an outdoor shower and hammocks.
Interior
The 1540 square foot interior of Villa Calaltea has a living room with a kitchenette, a master bedroom and bath, and a smaller guest room with a full bathroom. The bedrooms are located on opposite sides of the living space. Each bedroom has its own balconies with hammocks.
The master bedroom has a king-size bed, extra-large bath, and window-front Jacuzzi tub overlooking the private balcony and Arenal Volcano.
The second bedroom has a queen bed and a bathroom with a Jacuzzi bathtub.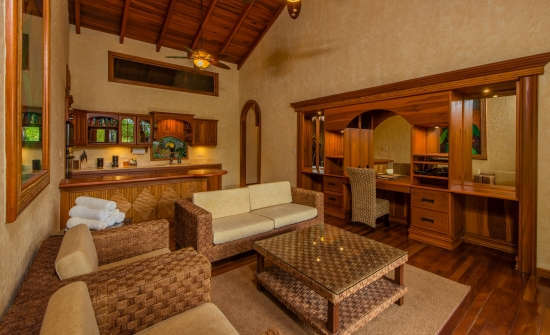 The living room has a full-size sofa bed, a kitchen/bar with a full-size refrigerator and microwave, a desk, and a half bath.
Villa Calatea has a 6 person maximum occupancy.