The Springs Resort and Spa at Arenal Volcano is one of the most popular luxury resorts in the region.
The Springs' luxury accommodations paired with a wide range of on-site activities and their relaxing thermal springs make it a hit among travelers. The Springs Resort is perched 1000 feet above the Arenal Valley on a mountain ridge just 6 kilometers north of the volcano!
The Springs' Hot Springs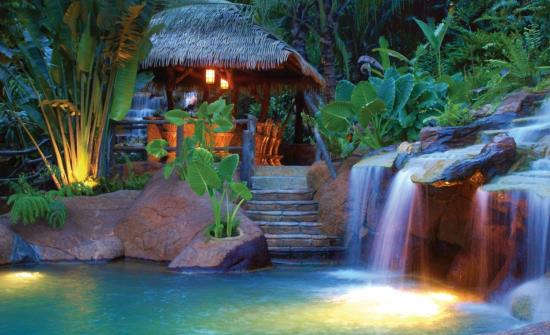 In addition to a spectacular view of the Arenal Volcano, the Springs Resort offers 18 on-site mineral-laden cold and hot springs, four unique dining experiences (everything from a sushi bar to fine dining), and an impressive 14,000 square foot Spa and fitness center. The Springs Resort promises to overwhelm you in every aspect of quality, service, and design. This world-class luxury resort is incomparable.
Club Rio Outdoor Center
The Springs Resort also has the Club Rio Outdoor Center, located along the Arenal River. This is truly a must-see part of any visit to this resort! Club Rio offers all the classics of adventure travel – horseback tours, rock climbing, hiking trails, nature tours, fishing, swimming, river tubing, inflatable river kayaking, and even a wildlife preserve for rescued animals! The new restaurant and bar, Rancho Club Rio, is a great spot to relax and watch the activities.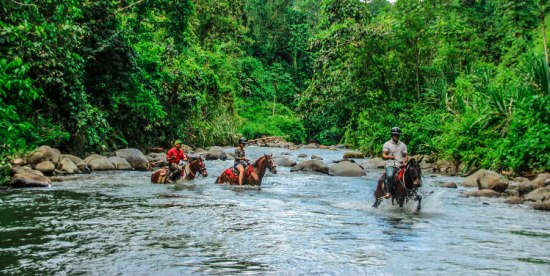 The Springs Resort Accommodations
The Springs Resort contains 180 guest rooms. All rooms have air conditioning, WiFi, 37-inch plasma screen TVs, DVD player, king-size bed, and oversized bathroom with Jacuzzi tub and shower.
Rooms at The Springs Resort come in a wide variety of options including guest rooms, suites, and villas. All include a private terrace with balcony and amazing volcano view, hammocks, satellite television, access, mini-bar, and coffee maker.
The Springs Rooms
The Vista guest rooms at The Springs Resort accommodate 2 guests in a King-size bed, with a possible roll-away bed for kids. The Alta Vista rooms have stunning views of both the volcano and the valley below from their second floor, while the Honeymoon Vista includes also a balcony with outdoor Jacuzzi.
The Springs Suites
The Suites come in a number of sizes and are meant for anywhere from 4 to 7 guests.  Separate bedrooms ensure privacy for any traveling group, and a jacuzzi in the master bathroom is perfect for those lazy evenings!
The Springs Villas
The Villas at The Springs Resort are incomparable! With multiple bedrooms and bathrooms, they're perfect for larger groups. The full kitchen comes in handy when planning meals around tours, and the shared living area is perfect for downtime! Enjoy a heated plunge pool, sun deck, hammocks, an outdoor dining area with all of the Villa choices.
If you need abundant space, privacy, and a simply unbelievable view, The Springs Resort's newest villa, the Falcon's Nest is a great option! The spacious living room is great for relaxing. With 5 bedrooms and a balcony Jacuzzi, it's perfect for families or groups!
Discover More Villas at The Springs Resort: