Hotel Grano de Oro is a sanctuary in the heart of the lively city of San José. Once a Victorian mansion, the 40-room hotel gives the feel of a private home, on a grander scale! Delight your senses at the hotel restaurant celebrated by Costa Ricans for its delicious tropical European fusion.
Guests will delight in the tranquil ambiance of tropical plants and flowers found throughout the hotel. Italian tile fountains grace intimate atriums, ensuring that one is never far from the soothing melody of falling water. Thanks to its great location, guests will have no problems finding nearby shops, restaurants, and other attractions.
Restaurante Grano de Oro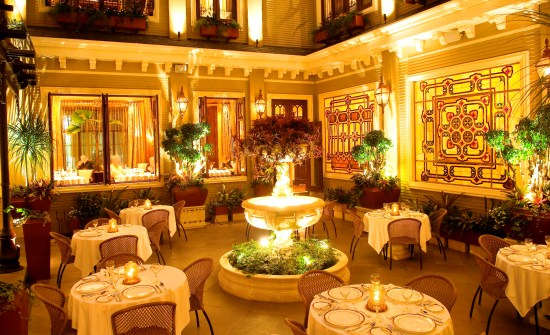 Once a simple café, Restaurante Grano de Oro has evolved into one San Jose's finest dining establishments, frequented by locals and visitors alike. The restaurant merges tropical and European flavors for a uniquely delicious gastronomic experience.
Jacuzzi Terrace
The  Jacuzzi Terrace at Hotel Grano de Oro is a rooftop garden with lawn beds and two Jacuzzis. It's a great way to relax after a busy day out on the town! Massage services are also available with reservation, including deep tissue massage and aromatherapy.
Hotel Grano de Oro Rooms
All rooms at Hotel Grano de Oro include free wireless internet, coffee maker, flat screen cable television, electronic security box, air conditioning and ceilings, and hypoallergenic synthetic pillows. Luggage storage, currency exchange, and laundry services are available to guests.
Looking to enjoy San Jose for a bit longer? Then a suite at Hotel Grano de Oro might be just what you need! The Family Suite contains two rooms with a shared bath. One room has both a Queen and Twin beds, and the other has just a Queen-size bed. With the Garden Suite guests can step back in time thanks to the original living room of this converted mansion. A lovely private tropical garden, a comfortable sitting area, and a King-size bed complete this luxurious experience.
And for a truly unforgettable stay, consider the Vista de Oro Suite – entered via private staircase, with a large in-room private Jacuzzi, spacious living room, and King-size bed, you can't go wrong!