Casa de las Flores is a spacious two-level free-standing villa within the Tulemar Resort property in the Manuel Antonio area.  The villa features ocean and rainforest views, two bathrooms, and two bedrooms with the ability to sleep five people. Wildlife like monkeys, scarlet macaws, sloths, and other tropical birds are frequent sitings from the balcony.
Amenities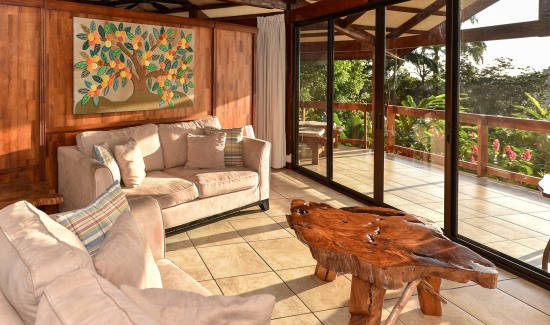 Casa de las Flores has central air-conditioning, two terraces (one on each floor), WiFi, a gourmet kitchen, kitchenette, living area, TV, daily housekeeping service, and a safe. On the top floor, sliding doors open out to the deck where there are lounge chairs and a dining table with chairs. The best views of the ocean are on the top floor – a fantastic location for dining while watching incredible Pacific Coast sunsets!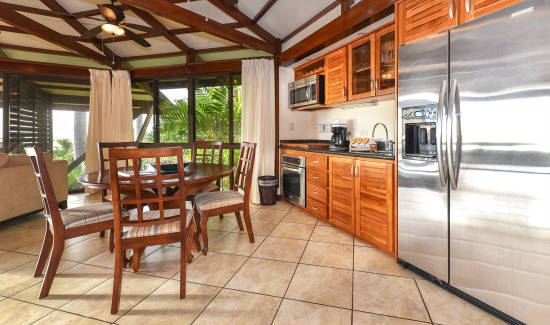 Enter the bungalow on the upper level to the kitchen, sitting area, and outdoor patio. The first bedroom with a king-size bed is also on the top floor separated from the kitchen and living space by a half wall. An indoor staircase leads down to the lower level of the bungalow where there are a second bathroom and second bedroom that opens up to another balcony.
Amenities of Tulemar Resort include an on-site concierge, the beach, four pools, nature trails, and an on-site restaurant. The exclusive beach is just a 7-minute walk down the hill from Casa de las Flores. Alternatively, there is a free private van available for transportation to the beach or around the property. There are also many restaurants, shops, ATMs in Manuel Antonio, and grocery stores within walking distance of Tulemar.
Rooms
The two bedrooms at Casa de las Flores contain one king bed and two full beds. The upstairs bedroom has a king bed with a semi-private sleeping area. There is a bathroom on the upper level.
The downstairs bedroom has two queen beds, a bathroom, and a small wet-bar.