Tortuga Lodge and Gardens is situated on 146 acres of private land bordering Tortuguero National Park on Costa Rica's northeast Caribbean coast.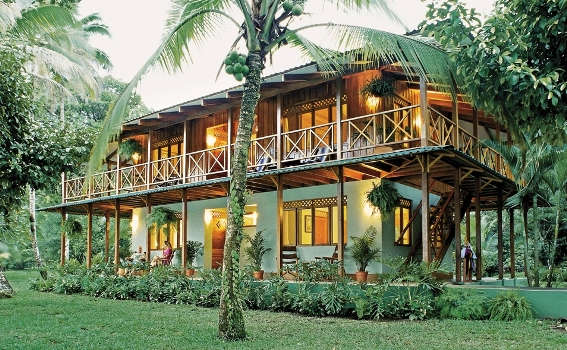 Tortuguero, called the Amazon of Costa Rica, contains slow-moving tropical rivers that function as the roads in the area. Visitors are immersed in a world where the forest merges with the water.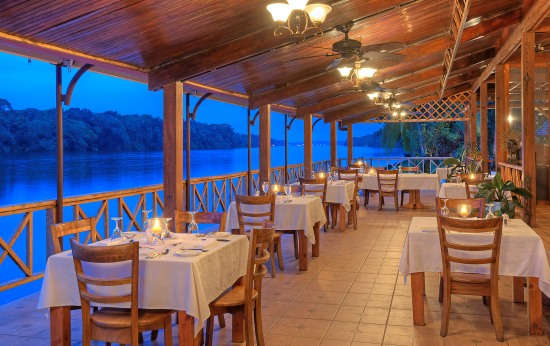 The restaurant at Tortuga Lodge serves up meals family style and has a long multi-level deck perfect for enjoying the view. The nearby national park offers a wide range of excursions, as well as the chance to see a number of the unique animals that call Costa Rica home!
Tortuga Animal & Bird Watching
Where the park was once meant to protect a major nesting beach of the Atlantic Green Sea Turtle, now it has spread to over 77,000 acres!  Keep an eye out while exploring for chances to see sloths, river otters, caiman, iguana, several monkey species, and basilisk lizards, to name a few – in addition to the 320+ bird species!
Eleven habitats are found in the park.  Kayak trips into the Tortuguero National Park are particularly perfect, as the are closed to motorized craft and, by paddling quietly, you might sneak up on some of the shyer creatures of the park!
Rooms at Tortuga Lodge
This remote jungle lodge has 27 river view rooms with private baths and ceiling fans. River view rooms are either upstairs or downstairs.
Downstairs Terrace Rooms have a front porch with sitting area and a hammock, while the Upstairs Balcony rooms have an elevated view of the river with more breezes than downstairs.
The Downstairs Junior Suites at Tortuga Lodge have twice the space of the river view rooms, with floor-to-ceiling windows for amazing views, a seating area, and multiple bedding configuration options.
Last but not least is the Penthouse Suite, which occupies the entire second floor. This suite contains 1 King-size bed and 1 Queen-size bed, separated by gauze curtains, along with a living room and two full bathrooms.
Please Note: Rooms do not have television or air conditioning so guests can appreciate the sounds of the surrounding forest.