Hotel Buena Vista Alajuela is located in the mountains near San Jose, with wonderful views of the volcanoes Poas, Barva, and Irazu. Thanks to their height above sea level, Hotel Buena Vista maintains a pleasant year-round temperature of 80 degrees during the day. With only 30 rooms, Hotel Buena Vista is dedicated to giving their guests the best service possible.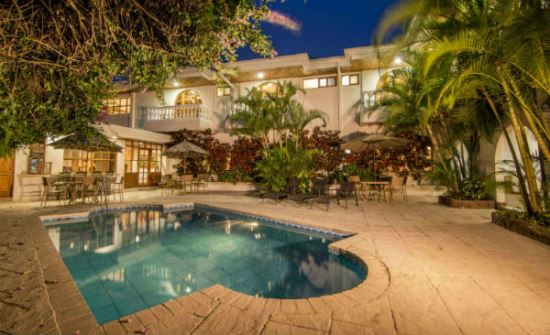 There are extensive tropical gardens, creating an ambiance of staying at a hotel in the midst of the colorful tropics. These gardens are also ideal for nature walks and bird or animal watchers. The use of native plant species encourages wildlife and birds to visit the property, much to the delight of watching guests! In 2012, 2013, and 2014, the Hotel Buena Vista was awarded the Certificate of Excellence by TripAdvisor.
Hotel Buena Vista Amenities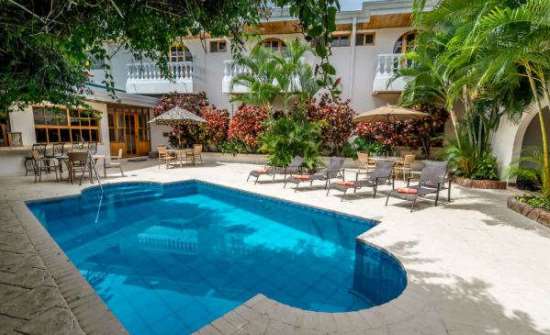 Just 15 minutes from the San Jose International Airport, Hotel Buena Vista contains a solar-heated pool, bar, nature trails, and a gift shop. Enjoy the tropical breakfast, room service, Wi-Fi, laundry services, and poolside dining. The Quetzal Room Restaurant serves international and local cuisine from 6:00 am to 10:00 pm. All fruits and vegetables are local and fresh.  The restaurant is very popular with both guests and locals, no doubt in part thanks to the amazing fine dining and pastry-making of the head chef!
Hotel Buena Vista Rooms
Hotel Buena Vista contains a variety of rooming options. While there is no air conditioning, it's not necessary thanks to the expansive windows, which let in a cooling and refreshing breeze. All rooms contain either a King-size bed or two Queen-size beds.
In addition to the standard rooms, there are also Three-Bed Suites which contain two Queen beds and a single bed, as well as a balcony for catching the best views or watching the stunning tropical sunsets.