Finca Rosa Blanca is a beautiful family-owned coffee and art hotel in Heredia, outside of San Jose, renowned for its on-site coffee plantation. This boutique hotel is a charmer, especially when you notice its local touches. From the artisan crafts and murals in each suite to the bracelets in the gift shop, Finca Rosa Blanca is a comprehensive snapshot of local culture, and it is much different than anything you've seen at an all-inclusive resort.
Finca Rosa Blanca Amenities
The hillside infinity swimming pool is surrounded by lovely and expansive tropical gardens, secluded decks and shaded verandas where guests can sunbathe and enjoy the magnificent views. Personal service and gourmet, country cuisine prepared from its fruit orchards and organic greenhouse vegetable and herb garden create an aura of graciousness.
The spa, pool, restaurant, and beautiful gardens are enough to keep guests lining up at the reservation desk, and then there are the views. The views! Gorgeous views of the Central Valley are one of Finca Rosa Blanca's best features. At night, the view goes from splendid to romantic as the lights from the valley illuminate the mountainous backdrop.
Hotel Finca Rosa Blanca is dedicated to combining service and comfort with business practices that are environmentally friendly. This location is ideal for anyone who wants to spend a day surrounded by nature but also return to a luxurious and comfortable room and a gourmet meal.
Finca Rosa Blanca Coffee Plantation Tour
You don't want to miss the Organic Coffee Tour and Cupping while staying at a Costa Rican coffee plantation. A tour of the coffee plantation will reveal the secrets of Costa Rican coffee from origin to harvest. Visit the processing area where the coffee cherry pulp is removed, the beans are fermented and dried, and the coffee is roasted and packaged. Discover the smells and tastes and freshly roasted and organic Costa Rican coffee at a cupping session. In the afternoon, enjoy your coffee with homemade biscuits on the outdoor terrace overlooking the beautiful farmlands of the Central Valley.
Activities from Finca Rosa Blanca
Aside from the Finca Rosa Blanca Coffee Plantation itself, the hotel has a variety of activities available. Surrounded by coffee, volcanoes, and culture, it also serves perfectly as a jumping off point to the myriad of tours and cultural experiences in the area. Finca Rosa Blanca's viewing terrace gives you a magnificent view of the Poas volcano crater (one of the world's largest active craters) as well as views over the northern lowlands of the country. It is also only an hour's drive from the Carara Biological Reserve.
Hotel Finca Rosa Blanca Rooms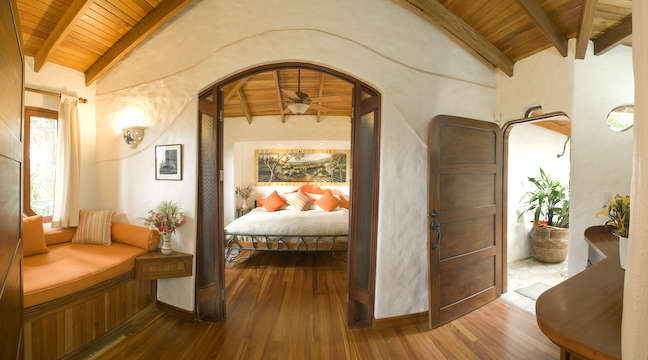 Hotel Finca Rosa Blanca has 14 unique suites including two extraordinary master suites, and eleven elegant yet whimsical junior suites, four of which can be united to form two spacious villas. Each suite is unique and features fine local woods and pieces from the owners' extensive modern art collection. All of the luxurious rooms at Finca Rosa Blanca Inn include Jacuzzi baths and minibars as well as private verandas overlooking the lovely Central Valley and the volcanoes above. Standard amenities include a king-size bed, complimentary Wifi, coffee maker and complimentary local, organic coffee, refrigerator, closet space, daily maid service, spacious bathrooms, and daily complimentary afternoon coffee with cookies.
Junior Suites
There are 10 unique Junior Suites at Finca Rosa Blanca: Las Avas, El Cafetal, El Higueron, El Pino, El Roble, El Valle, La Caretta, La Guaria, La Piedra, and La Ventana.
Master Suites
Finca Rosa Blanca has four master suites: Rosa Blanca Master Suite, El Cielo Master Suite, El Guarumo Master Suite, and Ranchito Master Suite.
Rosa Blanca Master Suite
If you're lucky enough to stay in the magnificent Rosa Blanca Master Suite, you'll be treated to a stunning 360-degree view from your balcony. The Rosa Blanca Suite features stairs winding around a tree trunk leading down to the master bathroom, and a bathtub-pool fed by spring water.
Ranchito Master Suite
The Ranchito Master Suite is an open-air bungalow built in the traditional Costa Rican structure with murals and cane ceilings throughout. Ranchito features a bathroom with Jacuzzi surrounded by lush gardens, and a living room that opens up to a private patio.
Villas
There are two villas options at Finca Rosa Blanca: Villa Boyero (El Pino and El Higueron Junior Suites combined) and Villa Laguna (La Guaria and El Roble Junior Suites combined).
Featured Finca Rosa Blanca Video:
Enjoy this 60-second highlight from our latest 4-part series with Tom Corpolongo featuring Finca Rosa Blanca Coffee Plantation Resort. Follow us on YouTube to watch more episodes featuring Pacuare Lodge River Rafting, Tabacon Hot Spring Resort, and Andaz Resort a Peninsula Papagayo.