A member of National Geographic's Unique Lodges of the World, Pacuare Lodge is one of the top eco lodge adventures in Costa Rica. This is more than just a lodge or a rafting trip, this is an experience. Just getting there is an adventure – many guests visit as part of a multiple day rafting trip on the Pacuare River.
Nestled between an untouched wilderness reserve and one of the best rivers for whitewater rafting in the world, this unique jungle lodge mixes luxury and ecotourism.
The Pacuare Lodge is one of only 65 locations in the world recognized by the World Tourism Organization for good practice of sustainability and ecotourism. Pacuare Lodge has the highest possible rating from the Costa Rica government's Sustainable Tourism Certifications.
Rafting & Activities from the Lodge
If you aren't interested in rafting, you can drive, fly or take a helicopter into the lodge. Talk to one of our Experts to coordinate the details of your trip. A variety of other activities are available from the lodge like zip lining, hiking, bird watching, and a cultural experience to a local Cabecar Indian community.
Pacuare Lodge Amenities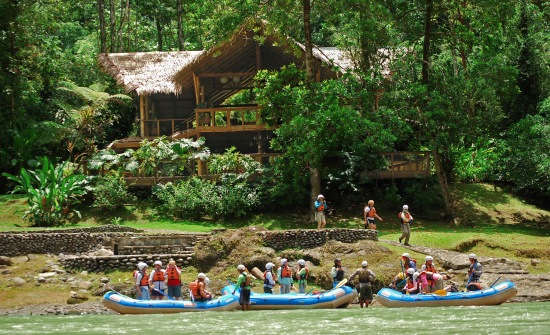 The views will never fail to dazzle at Pacuare Lodge. This location is simply amazing for bird and animal lovers. Four lookout areas on the second floor of the lodge offer great opportunities to get photos of the river and rainforest. The upper floor also contains a small bar with locally crafted wood furnishing and hand-hewn timber beams. This is rustic splendor at its finest!
Jawa Juu Spa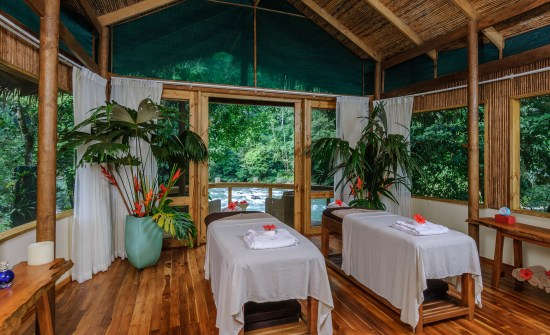 Another new addition to Pacuare Lodge is the Jawa Juu Spa. This is an all natural experience. There's no music – just the sounds of nature. Book a massage and unwind to the sounds of the jungle and the wild Pacuare River.
Pacuare Lodge Dining
Fresh coffee and teas are available throughout the day, and the open-air restaurant employs local chefs who create gourmet delights from fresh and locally produced vegetables and fruits. Pacuare Lodge is all about simplistic luxury – think haute cuisine on fine china with homegrown tropical herbs and spices, eaten by candlelight.
Pacuare Lodge Suites
The 18 bungalows-style suites were designed to blend in with the environment with minimum impact. There is no electricity or A/C at the lodge. All the suites are open-air with screens and use candlelight to create the ultimate jungle lodge experience. WiFi and electricity are available at reception.
River View Suite
The 12 palm-thatched River Suites have private terraces that look out to the river and surrounding jungle. The river suites feature a king-size bed. Maximum occupancy: 3 people.
Linda Vista Suite
The 4 Linda Vista Suites has views of the surrounding jungle and Pacuare River with a king-size bed, living room, indoor and outdoor showers, and an outdoor terrace with a private plunge pool. Maximum occupancy: 4 people.
Canopy Suite
The Canopy Suite is the Pacuare Lodge's all star, the bungalow-style suite that graces the covers of so many top ten lists. The Canopy Suite features a private suspension bridge leading to your bungalow, a king-size bed, private plunge pool, and spacious deck with glorious jungle views. Complement your romantic adventure with a candlelight dinner, an added massage, or champagne before bed! Maximum occupancy: 3 people.
Jaguar Villa
The new Jaguar Villa is a spacious private hideaway right on the Pacuare River perfect for couples and families. The villa features a spacious master bedroom, a large living area with two daybeds, a spring-fed plunge pool and terrace, indoor and outdoor shower, and private bridge and treetop platform with views of the river. Maximum occupancy: 5 people.
Please Note: Pacuare Lodge has a minimum age of 12 years for rafting & a minimum age of 7 for overnight at the lodge.
Featured Pacuare Lodge Video:
Enjoy this 60-second highlight from our latest 4-part series with Tom Corpolongo featuring the Pacuare Lodge. Follow us on YouTube to watch more episodes featuring Finca Rosa Blanca Coffee Plantation Resort, Tabacon Hot Spring Resort, and Andaz Papagayo Resort.
Related Article: Pacuare Jungle Lodge Hotel Review