Rios Lodge is your Costa Rica adventure vacation hot spot. The lodge is located deep in the rainforest, with native wood furnishings, open-air pavilions, thatched roofs, and comfortable hammocks. Rios Lodge was the first eco-lodge built on the Pacuare River and is currently the only one powered by hydro-energy. Even getting to the lodge is an adventure – either a rafting trip down the Pacuare or a hike is necessary!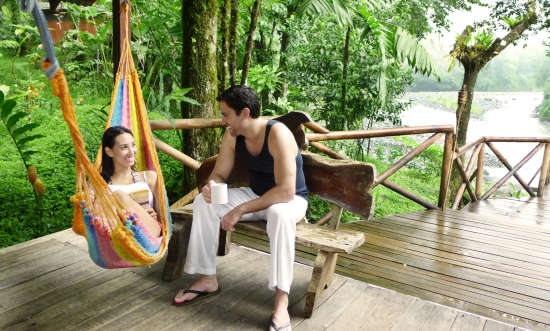 Rios Lodge is located on a 2000-acre private reserve, inside the Pacuare Protected Zone. The reserve contains more than 40 miles of hiking trails as well as numerous streams and waterfalls. Various accommodations are available, set upon the mountainside at varying heights, giving amazing views of the river and the rainforest.
Tropical Rivers Rafting
Our Costa Rica Experts suggest checking out Rios Lodge on a whitewater rafting trip. The minimum age to paddle down the Pacuare River varies: 14 years old during the rainy season and 12 years old during the dry season.
The majority of multi-day rafting trips include a one-night or three-night stay at the Rios Lodge – and with everything, there is to do in the area, it's no surprise that it's often a highlight of the trip! There are a host of unstructured activities, such as tree-planting, and guests can also take advantage of a multitude of tours, such as horseback riding, canopy zip line, or hikes through the beautiful forest.  For those less enthused about that much activity, the lodge has conveniently placed hammocks near the river which are perfect for meditation, reading a book, or just taking that afternoon nap!
Rios Lodge Rooms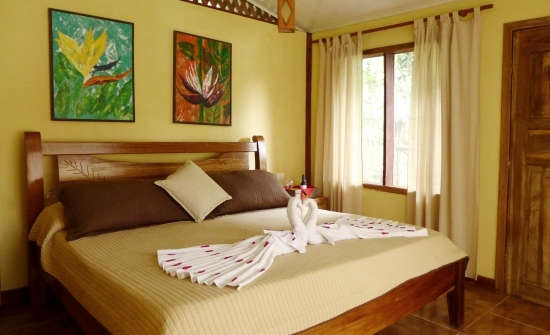 The rooms at Rios Lodge range from deluxe rooms in the lodge itself, overlooking the river, to rustic bunkhouses hidden among the trees and set back on the hillside. All rooms have private bathrooms, hot showers, electricity, and decks for wildlife and birdwatching.