The Tabacon Grand Spa Thermal Resort is a well-known resort in the Arenal Volcano area for its on-site natural hot springs and pools that meander through one of the most exotic gardens in the world. The resort offers a continuous complimentary shuttle between the resort and hot springs.
It is now a member of the Leading Hotels of the World, with 102 guest rooms, two restaurants on-site, three bars, a world-class spa (with 11 treatment rooms), a yoga studio, and two on-site shops. Of the 900-acres of land that Tabacon Grand Spa Resort sits upon, over 80% is covered by lush tropical rainforest. This luxurious resort is also a part of the Sustainable Tourism Program and has received Carbon Neutral certification!
Tabacon Hot Springs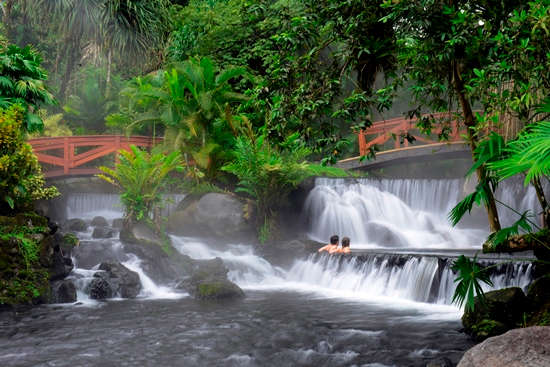 Costa Rica is home to some of the most amazing hot springs in the world, and Tabacon is a favorite spot for relaxation! In addition to the natural pools, Tabacon contains five tiled pools, a swim-up bar, and waterfalls in a Jurassic setting.
The verdant gardens that surround the natural pools will make guests feel like they're relaxing in the middle of the jungle.
Shangri-La Adults Only Gardens
A favorite section of the gardens for guests over 18 years old is the luxurious Shangri-La Gardens, an offshoot of the natural hot springs. The Adults Only Shangri-La Gardens contain six mineral pools and lounge chairs surrounded by beautiful gardens. Enjoy cocktails and other refreshments available in this area, served by the Garden's butlers.
Tabacon Grand Spa
Bringing nature into the spa is a key component of Tabacon's philosophy, and it makes all the difference! The open-air massage bungalows immerse guests in the pristine surrounding rainforest.  One of the best mineral spas and eco-spas in the world, Tabacon Grand Spa is an award-winning haven for stress-relieving treatments. Experience the natural productions of this stunning country with a volcanic mud wrap or a coffee exfoliation! Tea and smoothies are also available at the Grand Spa, and each open-air bungalow also features a Jacuzzi filled with the iconic mineral water that is reputed to have so many health benefits.
Tabacon Resort Rooms
All rooms at The Tabacon Grand Spa Thermal Resort feature a 42″ TV, internet access, mini-bar, coffee and tea facilities, air-conditioning, an in-room safe, laundry, and shoeshine service, nightly turndown, and 24-hour room service.
Rooms contain one King-size bed, two double beds, or two Queen-sized beds. The suites at Tabacon Grand Spa Resort are escapes to infinite comfort, with space and privacy necessary for the discerning traveler.
Featured Tabacon Thermal Resort Video:
Enjoy this 60-second highlight from our latest 4-part series with Tom Corpolongo featuring Tabacon Thermal Resort. Follow us on YouTube to watch more episodes featuring Finca Rosa Blanca Coffee Plantation Resort, Pacuare Lodge River Rafting, and the Andaz Resort on Papagayo Peninsula.