Origins Luxury Lodge is located in Upala in the mountainside overlooking a valley below in the Alajuela province of Costa Rica.
The lodge features incredible 180-degree views over the estate, volcanoes, Nicaragua Lake in the distance.
El Salto Restaurant
The dining experience at Origins incorporates raw ingredients and fresh flavors to produce Haute Cuisine. Their Michelin-starred Chef, Jean-Luc L'Hourre of Brittany, France, incorporates the roots of the land into his culinary craft and the sea as his specialty. Garden fresh organic vegetables and fruit inspire varying daily menu offerings for breakfast, lunch, dinner, and dessert. Pair your favorite wines with exquisite wine pairings from the cellar. At the end of the daily, enjoy incredible sunsets from the Skyview Lounge.
Activities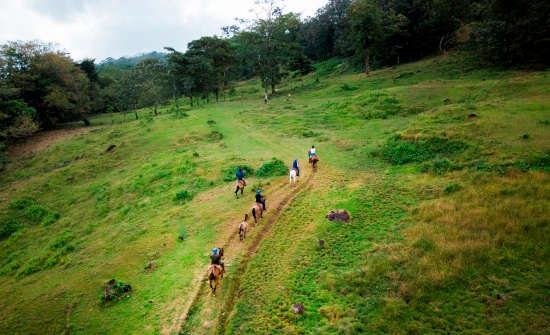 Activities abound at Origins Luxury Lodge. Discover the turquoise waters of the nearby Rio Celeste, take a yoga or cooking class, explore the grounds on horseback, stroll through the garden picking fruit, learn about the healing properties of the on-site Melipone bees' honey, take a wildlife night tour, go lagoon fishing, rappel at a nearby cavern, and end your day with an outdoor massage. Discover the property pathways on your own or lead by a professional naturalist guide. Don't miss one of the highlights of Origins Lodge, hiking to Oro Waterfall!
Accommodations
Lodges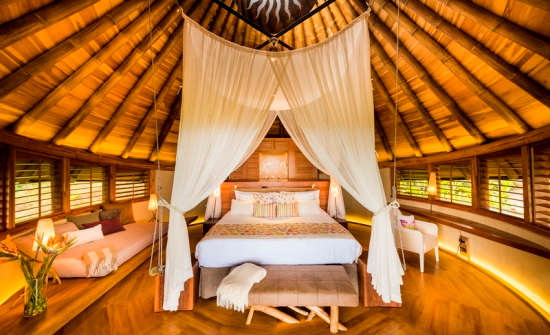 Perfect for couples, each of the seven spacious luxury lodges are 100 sq. meters. Enjoy 180-degree views from your canopy bed and soak in picturesque sunsets from your wood fire heated terrace bathtub. All rooms have one king-size bed, one bathroom, mountain view, WiFi, coffee makers, hairdryers, a safe, room service, and high-end amenities.
Villa Vertigo
The spacious 220 sq. meter Villa Vertigo accommodates up to nine guests. It features three bedrooms, three en-suite bathrooms, a large terrace with a fire-heated jacuzzi, a fully equipped kitchen with top-of-the-line appliances, a living room, a 180-degree view of the estate, volcanoes, and Nicaragua Lake, room service, and a safe.
Learn more about Villa Vertigo at Origins Luxury Lodge here.