Located minutes from the Monteverde Cloud Forest Reserve, Koora Hotel Monteverde is the newest luxury eco-lodge in the area. This intimate lodge has just 10 suites and bungalows in various categories, ideal for a range of travel styles from couples to families.
Amenities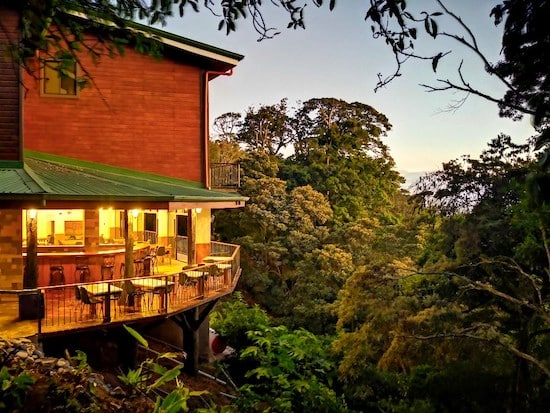 Amenities of Koora Hotel include Kiré bar and restaurant, a coffee shop, room service, concierge services, free WiFi, non-smoking areas, baby cots, and car parking.
While visiting the hotel, enjoy complimentary access to the Aguti Reserve, located just steps from the hotel (open from 6:00 am to 5:00 pm). The reserve has 4 kilometers of cloud forest trails, 600 meters of which are wheelchair accessible. Enjoy a morning walk under trees that are more than 200 years old. Look for local bird species, butterflies, agoutis, coatis, and many other species unique to this region.
Rooms
The Koora Hotel features just 10 intimate suites and bungalows. Room categories include the Junior Suite, Family Suite, Family Bungalow, Junior Bungalow, and Jr. Bungalow Deluxe. All have hot showers and in-room safes. Some feature fully-equipped kitchenettes, dining rooms, and living rooms.
The Junior Bungalow Deluxe is outfitted with one king-size bed, a living room space, and a balcony with panoramic views of the Monteverde nature reserves.
The Junior Bungalow has one queen bed and one king bed with large windows and a balcony overlooking the cloud forest.
The Junior Suite has one king bed or one queen bed, a mezzanine, 1.5 bathrooms, and a balcony.
The Family Bungalow is split across two levels with two king beds with ample space to relax and spend time with children and loved ones.
The Family Suite is the largest suite with panoramic views of the Monteverde cloud forest reserves. It has three king beds, two bathrooms, a spacious lobby, a mini bar with a refrigerator, and a mezzanine.