The Waldorf Astoria Panama City, Panama hotel is only 25 minutes from Panama City's Tocumen International Airport and 15 minutes from the Panama Canal. This luxurious 35-floor hotel is minutes from shopping and only steps from the Calle Uruguay's Financial and Entertainment districts which showcase an incredible view of the Panama City skyline.
Amenities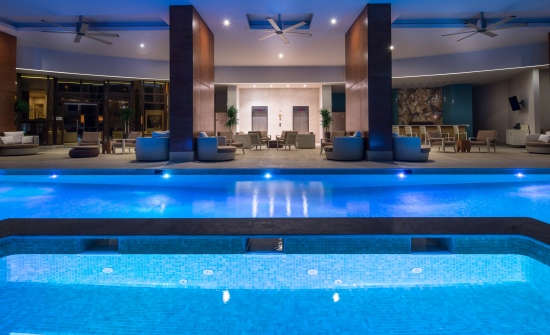 Waldorf Astoria amenities include one of the best spas in the city and innovative Panamanian cuisine that incorporates flavors from both the Atlantic and the Pacific Ocean. The Bungalow Terrace & Pool Bar and the top-level restaurant, BRIO, are highlights of the Waldorf Astoria dining experience. Lighter meals are available at the bungalow terrace and pool bar with views of the city skyline while breakfast and lunch are available daily from the BRIO Restaurant. Other hotel features include a concierge, fitness center, outdoor pool and hot tub, steam rooms, in-room and lobby WiFi, business center, and meeting rooms. The spa has a variety of treatments available including facials, nail treatments, deep tissue, Swedish, and prenatal massages, and honey or chocolate treatments. Couples spa treatments are available. The fitness center spans two levels and is open 24 hours a day. The Waldorf Astoria is a non-smoking hotel.
Guest Rooms & Suites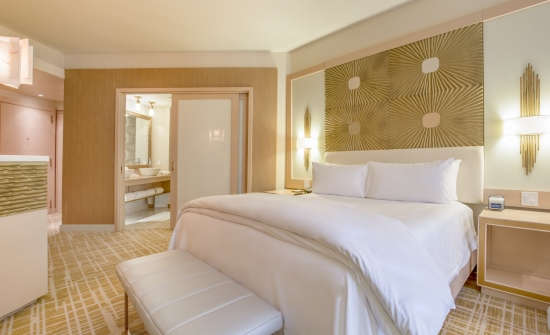 With 130 rooms and suites, the Waldorf Astoria has a variety of guest rooms and suites available. Accommodations Include up-to-date technology and stylish bright yet relaxing decor with the utmost in elegant comfort. Amenities include a 40″ HD TV, alarm clock, minibar, Nespresso coffeemaker, laptop-size safe, desk with chair, and complimentary WiFi.
Guest Room options include the Deluxe 2 Double Bed Room, Deluxe City View with 1 King Bed Room, and the Deluxe Terrace with 1 King Bed Room.
Suites include the Condo Suite Ocean View with 1 Bedroom King Bed, the Condo Suite City View with 1 Bedroom King Bed, the Junior Suite with 1 King Bed, and the Studio Suite 1 Bedroom Ocean View King Bed.