Tamarindo Diria Beach & Golf Resort is located on Tamarindo beach only 45 minutes from Liberia. This 240 room mid-sized hotel is located down by the shore – wonderfully close to the crashing surf of Tamarindo Beach. Tamarindo Diria features a restaurant, bar, several swimming pools, tennis court, casino/gaming room, and a fitness center. Within a short distance of Tamarindo Diria Beach & Golf Resort are two world class golf courses for your enjoyment, Hacienda Pinilla and Paradisus Playa.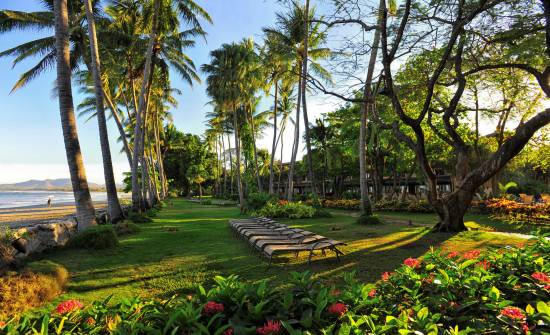 Things To Do at Tamarindo Diria
This stunning beach getaway hotel wouldn't be much if it didn't offer an amazing variety of activities for guests!  A haven for surfers and beach-goers, Tamarindo itself has evolved from a quaint and quiet fishing village into one of the best destinations in Costa Rica. Interested in exploring the great outdoors away from the white-sand beach?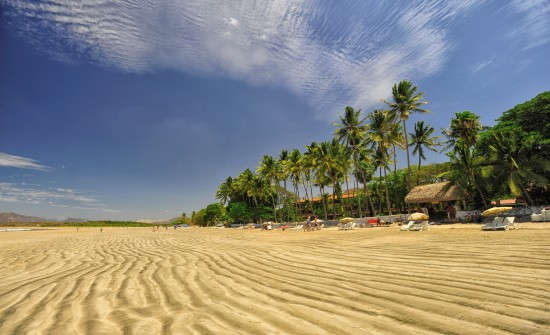 There are a myriad of ways to explore this beautiful area! Horseback ride through small towns, take an ATV tour through rivers and up mountains, or explore the rainforest from the treetops with a canopy tour! Sport fishing and scuba diving and snorkeling are also massively popular in the area. Guests can plan tours ahead of time, or the tour desk at the hotel is happy to help.
Tamarindo Diria Amenities
Rather stay out of the ocean and near the comfort of your hotel? Tamarindo Diria Hotel features a number of different pool options, including one adults-only and one children-only, as well as a perfectly soothing whirlpool with hydromassage jets.
Tamarindo Diria Rooms
Tamarindo Diria Resort features 240 rooms in five different categories. Every room features a safety deposit box, cable television, air conditioning, wireless internet connection, and either a King-size bed or two Queen-size beds. Tamarindo Diria Resort provides hot water to all of the rooms as well as to its laundry operations with a water heating system powered completely by solar energy panels.