Arenal Observatory Lodge was originally built in 1987 as a research station for scientists of the Smithsonian Institute. It is the only lodge within Arenal Volcano National Park and is protected from danger by a deep gorge of the Agua Caliente River.
Arenal Observatory Lodge Amenities
The lodge features a huge swimming pool and Jacuzzi, on-site horseback riding, volcano hikes, and miles of trails for independent hiking. It is one of the most authentic and educational properties in Arenal, and serves as a perfect base for a wide range of Arenal activities and adventures.
Arenal Observatory Lodge Rooms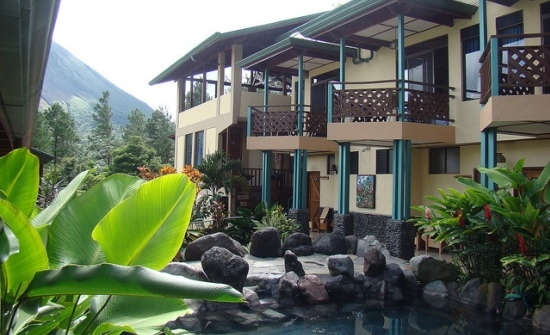 Arenal Observatory Lodge contains 48 rooms in various buildings.  Many have views of the Arenal Volcano, as well as the old lava flow, and all are surrounded by gardens.  All rooms include a full buffet breakfast, swimming pool & Jacuzzi, free guided morning hikes, and over 7 miles of well-maintained trails. There is a maximum of 4 guests per room.
La Casona is great for groups or families, and set off from the main building. It contains 4 rooms with queen size beds and a fifth room with two queens and a bunk bed.  There are two bathrooms in the building, which are shared by all La Casona guests.
The Standard Rooms at Arenal Observatory Lodge each have balconies with Arenal Volcano or Arenal Lake views, two queen-size beds,and a private bathroom.
The Smithsonian Rooms are great for those who want an amazing view of the volcano while laying in bed!  The huge picture windows are ideal.  Each room contains two queen-size beds and a private bathroom.  Some Smithsonian rooms also have balconies. Five of these rooms are fully equipped for guests who require wheelchairs – halls, bathrooms, parking area, swimming pool, and over 2kms of paths are accessible.
Junior Suites have a volcano view through massive windows, as well as a private deck with views of the Arenal Lake.  Each suite contains two king-size beds, a sitting area, and a mini refrigerator.
The White Hawk Villa is recommended for guests who enjoy walking, as it is placed about 0.7 miles from the main room. It does, however, have the ultimate view of the volcano and lake.  This villa includes a living room with television, a dining room, and a full kitchen. The two bedrooms can accommodate up to 8 people, as each has a queen size bed, two twin beds, and a private bathroom.