The six-bedroom, seven and a half bathroom Harmon Estate is a luxurious 6,600 square foot private villa at Playa Herradura within the Los Suenos Resort and Marina complex on the Central Pacific Coast.
Amenities
The Harmon Estate is comprised of the main villa and two 800 square foot guest houses on the property. There are three bedrooms in the main villa, one bedroom in the second guesthouse, and two bedrooms in the second guest house.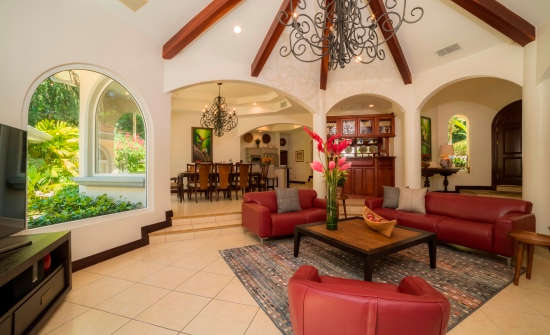 The main villa is where the main luxurious amenities of the estate are located like the private pool and Jacuzzi.
Amenities of the Harmon Estate include central air, ceiling fans, high-speed internet, gourmet kitchen, a full gym equipped with an array of workout machines and weights, large flat-screen TV with cable, and a DVD player. There is also a laundry room located off the kitchen with a washer and dryer.
While staying at Harmon Estate, you'll have access to Los Suenos Resort & Marina – located only a short golf cart distance away! The beach club has a two-acre pool with a swim-up bar and Jacuzzi. Other resort services include daily maid service and concierge services.
Rooms
There are six bedrooms, each with its own en-suite bathroom and high-resolution TV.
Located in the main villa, the master bedroom has one king-size bed. The master takes up the entire top floor with access to a private balcony overlooking the pool and terrace. It has an office space, walk-in closet, and Jacuzzi. Bedrooms 2 and 3 have queen-size beds and are located on the lower level of the main villa. They have access to the terrace and gym. Off the kitchen, bedroom 4 is a small room with a full bed and TV.
In the first guest house, bedroom 5 has one queen-size bed.
In the second guest house, bedroom 6 has one queen-size bed.
Both guest houses each have their own kitchen and living area. The Harmon Estate can accommodate a maximum of 12 guests.