This romantic, luxury hideaway features incredible views from its perch high on a hill above the Pacific on the secluded northwest side of the Nicoya Peninsula.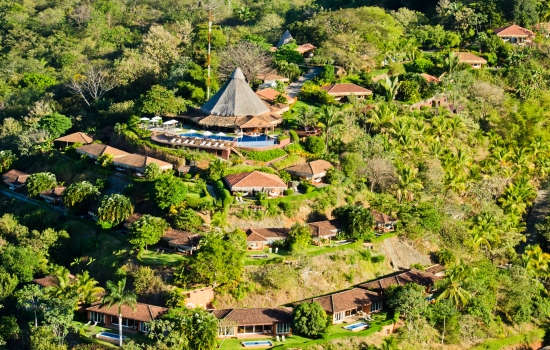 Activities available from Hotel Punta Islita include hiking, surfing, horseback riding, bird watching, kayaking and village tours. Punta Islita is completely surrounded by gorgeous tropical forest and looks down on a secluded beach cove, set along Guanacaste's coastline.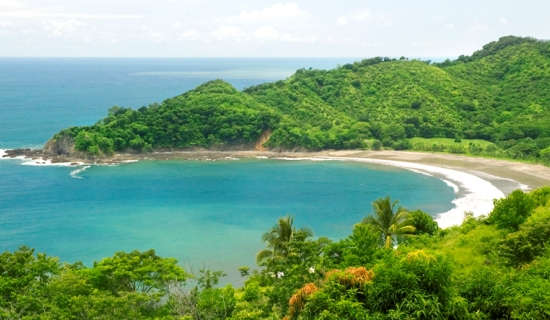 The 300-acre property is ideal to explore a pristine ecosystem. Hotel Punta Islita is a great place for the discerning traveler to explore the cultural authenticity, fun, sustainable luxury, and signature friendliness and hospitality of Costa Rica.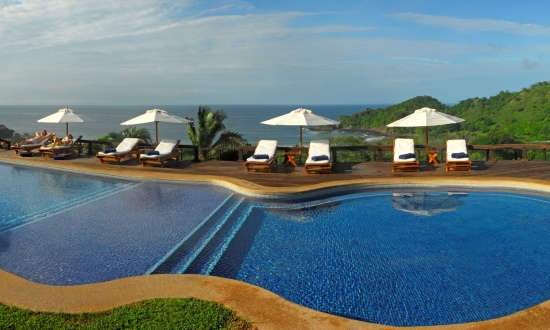 There could hardly be a better place to get the true feel of Pura Vida! Hotel Punta Islita also features a dramatic infinity pool, tennis courts, spa facilities, and thatched-roof gourmet restaurant featuring Costa Rican fusion cuisine. Sport fishing in the area is great!
Hotel Punta Islita Rooms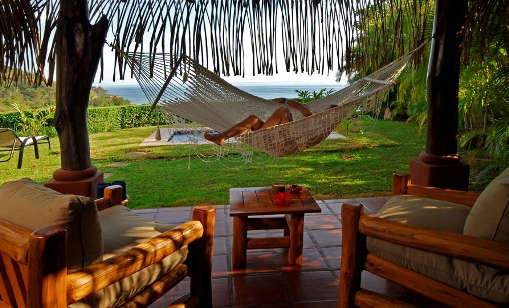 Hotel Punta Islita's intimate property contains a variety of different room levels.
Deluxe
For the affordable luxury that Costa Rica is famous for, the deluxe rooms feature a king-size bed or two queen-size beds, a terrace with hammock, and partial ocean views.
Suites
A step up are the suites, with a king-size bed, indoor or outdoor lounge area, private deck, and ocean views. Perfect for romance, they also have a private whirlpool bath outside.
Casitas
The casitas of Hotel Punta Islita have a King-size bed, private balcony, and a large lounging area. You can't go wrong with a casita, thanks to the private plunge pool!
Villas
Last but certainly not least at Punta Islita are the villas. Think the joy of your own private beach home! Two- or three-bedroom villas are available for groups or families traveling together. These beautiful accommodations feature a full kitchen, a large lounge area, private gardens, and a plunge pool. You'll feel like Hotel Punta Islita is your home away from home!
Two-Bedroom Villas
The two-bedroom villas at Punta Islita have two spacious bedrooms with private bathrooms. They feature common areas with a full kitchen, a sitting and dining area, and a half-bathroom. They each have a private plunge pool, shaded open terrace, and ocean and/or mountain views.
Three-Bedroom Villas
Each of the three-bedroom villas has three bedrooms with private bathrooms and all the amenities and comforts of a private beach home. They have private plunge pools with a lounge terrace and surrounding gardens. Each three-bedroom villas offers privacy and full access to hotel services and amenities.
Learn more about the villas at Hotel Punta Islita.
Hotel Punta Islita Activities
There are complimentary activities galore at Hotel Punta Islita (black-out dates apply). Costa Rica offers such a wide variety of things to do that often visitors find themselves overwhelmed with options. At Hotel Punta Islita, however, everything can be found nearby! Take a brisk morning hike with a nature guide,  explore the rugged landscape via horseback, or early birds who love birds will enjoy a walk through the trails with a guide to point out beautiful tropical species.
Activities for kids abound as well! Feel like heading out on a whitewater rafting trip that might be just a bit too much for your young one? Punta Islita offers Kids' Rock Painting, Craft Art, Mobile Making, Keychain Making, and even a Pottery & Tortilla Making class!
Other activities include:
Macaw Rescue Mission
Join with partners at The Ara Project, where they work to revive the Guanacaste population of Red Macaws. A visit to the recovery center is an amazing chance to see these vibrant flying gems up close, as well as help support a great cause.
Monkey Quest Hike
Head out onto Punta Islita's nature trails to see rambunctious monkey antics in person, in the wild! Howler, White-faced, and Capuchin monkeys can all be found on Islita. In fact, the Howlers might be your morning wake-up call!
Pick-Up Soccer
Visit the Islita soccer field to see how your skills measure up with the Ticos! A friendly game is a great way to get to know the local neighbors.