Crocodile Bay Sportfishing & Eco Resort is nestled in the rainforest, on the edge of the Golfo Dulce bordering Corcovado National Park on the Osa Peninsula. This region is celebrated as the most biologically intense place on earth. It is here, where luxury runs wild, that you will finally be able to slow down to the speed of life.
You are but a stone's throw away from a vibrant and quaint seaside village, lovely beaches, and a variety of local cuisine and culture. Crocodile Bay Resort boasts of having one of the highest return visitor rates in the industry; come find out why!
Crocodile Bay Sportfishing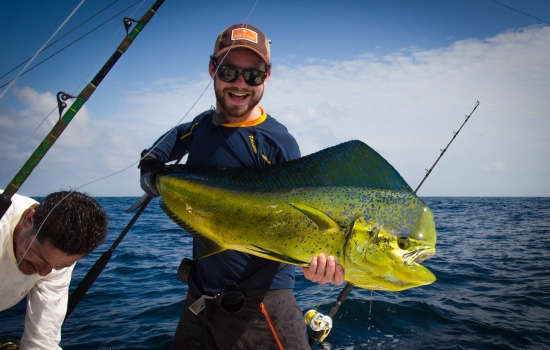 Four distinct fishing excursions are available from Crocodile Bay: inshore, offshore, kayak, and shore fishing. An English speaking captain will work with you to accommodate your fishing style. Crocodile Bay practices catch-and-release fishing with safer circle hooks.
Crocodile Bay includes a fleet of 40 private fishing boats accessible from their 880 ft pier. About 30 minutes from the pier, outside the mouth of the Gulfo Dulce, world class billfishing for Sailfish Blue, Black and Stripped Marlin begins. Pacific Sailfish can be caught year-round, commonly raising 10-15 per day in the winter months. The 30-mile long saltwater Gulfo Dulce provides anglers exciting inshore action like the Roosterfish, Bluefin Trevally, Jacks, Cubera, Grouper, Colorado Snapper, and more.
Wildlife & Eco Excursions
A stay at Crocodile Bay Sportfishing & Eco Resort offers a variety of land and water excursions that will immerse you in true Costa Rican adventure; more than 30 different eco tour adventures for you to choose from; and all of them are but a short distance by car. And just imagine; over 750 different species of birds… more than Canada and the United States combined! After all, their neighbor is Corcovado National Park which happens to be the crown jewel of Costa Rica's national park system. This is home to more than a ¼ of a million of the world's living species, and 2.5% of the planet's wildlife and flora. It is also here, at the Golfo Dulce, that you will find humpback whales from both hemispheres meeting to breed and to teach their calves how to swim; a true phenomenon! This makes this location a great destination for those looking to venture out into the untouched rainforest for hiking, animal watching, and birding. Or, if you prefer, you can simply relax in the Boutique Spa, which offers over 30 local treatments and specialty products.
Crocodile Bay Amenities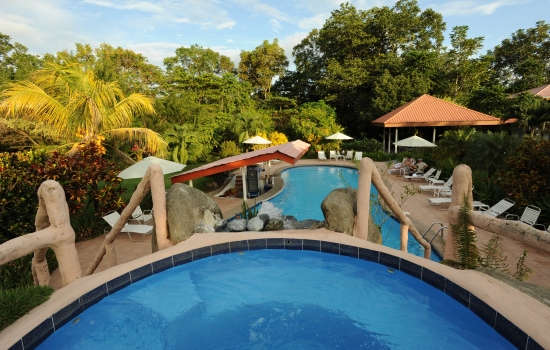 Amongst the facilities and amenities that Crocodile Bay Resort offers you will find 30 unique land and water eco-adventures, a world-class spa offering 30 customized therapies, an inviting pool with  swim-up bar and elevated hot tub, complimentary paddle boards and bikes, an air-conditioned television lounge, game room, and a billiard and card room.
Crocodile Bay Dining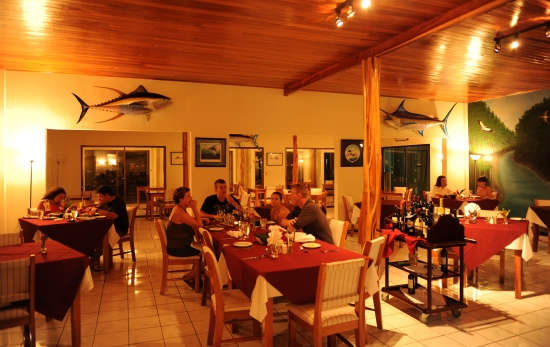 The restaurant menu at Crocodile Bay features the freshest catch of the day; whether transformed into tasty ceviche, fresh sushi, or grilled to perfection, your seafood selection will be masterfully prepared by our local chefs, and complimented by locally sourced produce. Additional cuisine dedicated to nurturing your well-being include a range of fine culinary treats from traditional Costa Rican food to international recipes; and all meals feature the best in local produce – grown and harvested at farms within the region. Poultry, locally-caught seafood, and grass-fed beef, as well as delectable healthy vegetarian choices, are always featured on the menu.
Rooms: Your Home Away From Home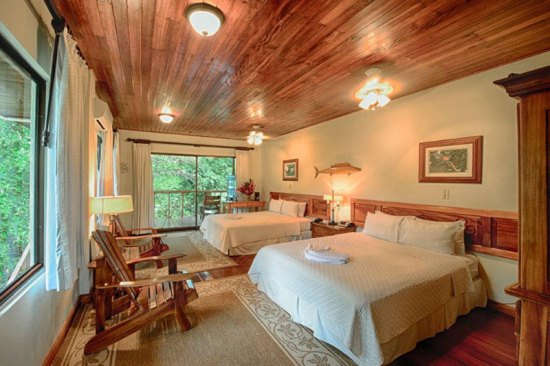 All rooms are air-conditioned and feature a terrace or balcony with natural garden views, Queen size beds, modern bathrooms with tubs and showers, coffee maker, and safe boxes. The rooms showcase a rustic elegance that features hardwoods and local-crafted works.