Located in the heart of the Gandoca Manzanillo Wildlife Refuge on the Caribbean Coast, Almonds and Corals Tent Camp is a unique destination. Staying at Almonds and Corals hotel offers you the opportunity to get a feeling of the jungle while having luxury accommodations in the middle of the wild rainforest. Almonds and Corals Hotel calls itself part exclusive Caribbean beach resort, part eco-conscious boutique hotel, and part safari camp.  With this three-in-one destination, guests can hardly go wrong!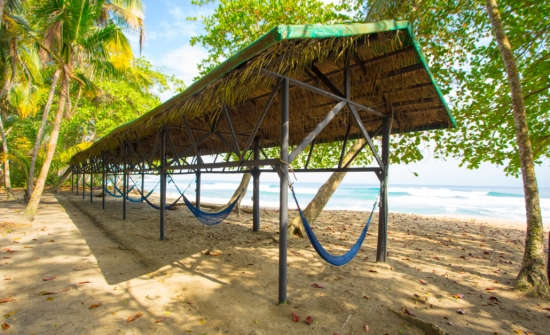 A few nights at Almonds and Corals Tent Camp is among the most unique experiences you can have in Costa Rica. Experience the joy of the open restaurant, nestled under trees and near the ocean, where the food is delicious and lovely as you listen to the sounds of the rain forest and sea. A short walk away is a golden sand beach with thatched beach umbrellas. Thanks to the nearness of the Cahuita National Park and the relatively tranquil countryside, a number of activities and tours are available for the adventurous guest.  Enjoy kayaking, snorkeling, biking, horseback riding, hiking and jungle walks and a visit to the Indian Reserve and Cahuita National park.
Almonds & Corals Rooms
The Almonds and Corals hotel consists of 24 bungalows that lie under giant trees in a forest so dense that the sun's rays hardly touch the ground. Each bungalow is a freestanding platform raised on stilts and linked by boardwalks lit by kerosene lamps. They are protected by a peaked roof, enclosed in mosquito netting, and equipped with electric lamps, fans, beds, hammocks, sofa, and a private bath.
For those looking to enjoy a bit more luxury on their trip, the Master Suite at Almonds and Corals is ideal! With the emphasis on comfort and privacy, the Master Suite is an environment of leisurely Caribbean indulgence, with a Jacuzzi for relaxing after a long day.