This owner-operated ecolodge is located on the Isla Bastimentos in Bocas del Toro, Panama. It is adjacent to the Bastimentos National Marine Park. Laying along the Caribbean coastline, Tranquilo Bay Lodge has over a kilometer of coastline, nestled among coral gardens. Secluded from the rest of the world, Tranquilo Bay is designed to relieve the pressures of real life and focuses on rejuvenation and immersing guests in one of the most biologically diverse places in the world.
Activities at Tranquilo Bay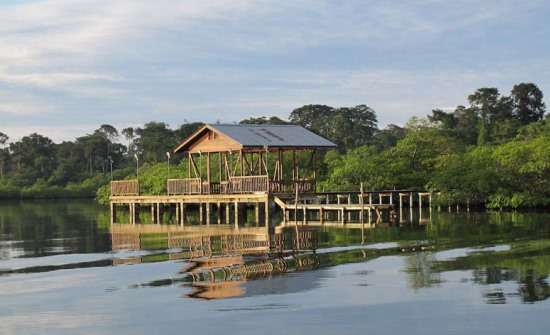 The facilities are spread over 200 acres and three ecosystems and include over a mile of hiking trails. At least 75% of their land is untouched and left to evolve in its natural state. Expect to be amazed by the variety of flora and fauna amid the tropical rainforest, mangrove forest, and the beautiful coral reef!
The variety of ecosystem types in the area are what give Tranquilo Bay the opportunity to offer so many different excursions to their guests!  Avid adventurers will delight over the chance to hike through the tropical rainforest, kayak through the mangrove forest, or go snorkeling for a view of the coral reef.  Guided tours also venture into the Bastimentos National Marine Park. Wildlife-watching and bird-watching are especially a treat in this area, with a huge number of native animal species.
Tranquilo Bay Cabanas
Tranquilo Bay Lodge boasts six Cabanas, tastefully decorated and featuring local hardwoods, tile floors, and fine linens. Each bedroom contains a Queen-size bed or double beds, also made from local hardwoods. Twin beds are available upon request to be added into a cabana for children. Each Cabana contains air conditioning, coffee-maker, and a covered porch with hammock and chairs. Four of the cabanas have stunning ocean views, while the remaining two have views into the tropical jungle.