Arenal Springs Resort and Spa is a hot springs boutique lodge in the Arenal Volcano region. In addition to the many activities available from Arenal Volcano, the adventure capital of Costa Rica, Arenal Springs Resort has a variety of on-site experiences like the Natria Spa, all natural hot springs, three different restaurants, and an open-air yoga deck.
Arenal Springs Resort Amenities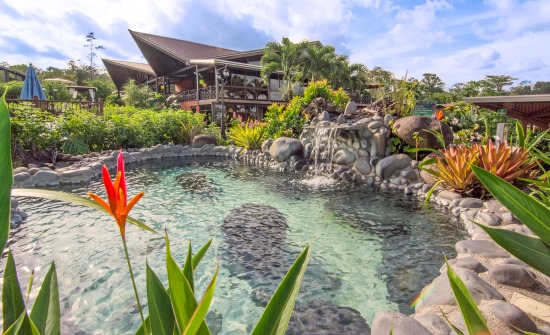 The resort includes 3 freshwater pools, and 4 all-natural hot spring pools with minerals coming from the underground sources of Arenal Volcano. This soothing health-minded atmosphere serves to rejuvenate with the power of the volcano. The pool grounds are wheelchair accessible. The resort offers free pool towels and lockers in addition to spacious restrooms and showers. The yoga deck is another highlight of the Arenal Springs Resort experience. Complimentary yoga classes are held Monday – Saturday at 6:30 am in an open-air gazebo surrounded by gardens with a powerful view of Arenal Volcano.
Arenal Springs Restaurants
Arenal Springs Resort has 3 different on-site dining experiences that include an Italian Restaurant, Sakana Sushi Bar & Restaurant, and the main Ti-Cain Restaurant, which includes a variety of Costa Rican traditional dishes as well as American classic dishes.
Natria Spa
Natria Spa features a variety of spa treatments and packages that include massages and facials. With nature's background music amid lush tropical gardens, the Natria Spa is an idyllic setting to recharge. A variety of treatment is available which feature all-natural Costa Rican ingredients like the full-body Chocolate Massage or the Chocolate Body Wrap.
Rooms
The rooms at Arenal Springs Resort include air conditioning, a flat-screen TV with cable, mini-bar with granite-topped table, closet with hangers, hairdryer, alarm clock, telephone, room service, and private assigned parking.
The junior suites include 1 king or 2 queen beds in each room with views of Arenal Volcano from every room. The bathroom includes a rainfall shower with a small tropical garden that feels like an outdoor shower. Large windows open up to a private terrace surrounded by tropical gardens.
There are 6 master suites at Arenal Springs. The 1740 foot master suite includes a large thermal in-suite Jacuzzi. One or two bedroom suites are available with a living room with queen sofa bed, walk-in closet, rainfall shower, and an indoor garden. Bright local artwork decorates the walls, and large windows open up to a private terrace with a comfortable hammock. Each room features views of Arenal Volcano and is surrounded by lush gardens that attract butterflies and birds. Master suites can accommodate 4-10 people.