Arenas del Mar Beach & Nature Resort is a 38-room beachfront resort set within an 11-acre private nature reserve overlooking Manuel Antonio National Park. It was the first Costa Rican luxury hotel to receive the Five Sustainability Leaf Award. The resort caters to Manuel Antonio's most luxurious and eco-conscious travelers. Arenas del Mar has led the way in the area of sustainability and is a carbon-neutral property.
Arenas del Mar Beaches
Arenas Del Mar is an oceanfront property, so spending time with the sand and sun is easy. Arenas del Mar has access to two pristine public beaches, a unique feature of Manuel Antonio properties! Espadillas Beach is a long stretch of beach leading all the way to the entrance of Manuel Antonio National Park (about a 25-minute walk). We recommend Espadillas Beach for those with children and for guests who would like to take walks, swim or surf and enjoy the wonderful view of the National Park. The second beach called "Playitas" is a small cove beach with rough surf, located adjacent to the lower level of the hotel.
Arenal del Mar Amenities
Hotel amenities include two swimming pools, a small spa, two restaurants, and on-site private trails. Every stay includes WiFi throughout the property, a la carte breakfast, a tortilla-making class, and a guided sustainability tour. Stop by the concierge desk in the Mirador Lobby & Lounge to book dinner reservations and arrange tours. The Mirador Lobby & Lounge features an infinity pool with breathtaking views of Manuel Antonio National Park. Grab a drink in the lounge where the bartenders stir up delicious cocktails. Just off the bar is an entertainment room where kid-friendly movies run weekly or meetings and family reunions can be held. The 11-acre resort is walkable and a great place to explore and get in your steps! Otherwise, an electric cart is available. Simply call the front desk and the friendly staff can swing by to get you.
Dining
The Mirador is the fine-dining restaurant of Arenas del Mar with views overlooking Manuel Antonio National Park. It has a rotating catch-of-the-day selection thanks to their Dock to Dish program and International Guest Chef program. Top culinary talent from around the world come to Arenas del Mar to infuse typical Costa Rican cuisine with international flavors and style. The Playitas beachfront restaurant is a casual dining experience with themed nights like Beach BBQ and Costa Rican Street Food that the kids will love and still satisfy foodie parents.
Activities
There are a variety of activities available from Arenas del Mar including national park tours, ziplining, snorkeling, kayaking, bird watching, night hikes, and stand-up paddleboarding. The resort is a 25-minute walk from Manuel Antonio National Park. Transportation or guided tours of the park can also be arranged. On property, Arenas del Mar has a new surf and stand-up paddleboarding school with energetic instructions from the local community. Weekly fitness and yoga classes at the resort are complimentary. Families will love the weekly activities available for kids: movie nights, themed food evening, trivia, beachfront volleyball and soccer, mask painting, and more led by qualified staff – allowing parents a break for relaxation!
Arenas del Mar Accommodations
Arenas del Mar has only 38 guest rooms and suites (19 rooms and 19 suites) distributed in 7 buildings and a staff of 120 to accommodate guests.  The resort has five lodging categories: garden room, ocean breeze superior room, ocean view superior room, ocean breeze suites, and ocean view premium suites. All rooms at the resort contain a King-size bed, A/C, complimentary WiFi, flat screen TV, mini-bar with assorted Tico Snacks and local beverages, and coffee maker with complimentary local organic coffee.
Rooms
Garden Rooms contain the standard in-room amenities of all the room types.
The Arenas del Mar Ocean Breeze Superior & Ocean View Superior rooms both include a covered deck with outdoor kitchenette, a 122-square foot deck, spacious bathroom, and King sized bed. Both room styles accommodate two people but can connect with a suite.
Suites
The suites at Arenas del Mar offer a private tiled hot tub on a covered deck, a living area, and a kitchenette with dining table and small refrigerator. There are two options for suites: the ocean breeze suite & the ocean view premium suite. The bedrooms in both suites are exactly the same and both suites have the same square footage. The suites can accommodate 2 adults and 2 children or 3 adults total.
The Ocean Breeze Suites face the ocean with partially obstructed views through the rainforest. They have an expansive terrace and outdoor Jacuzzi on the porch. They may have 1 or 2 bathrooms and may have a trundle bed.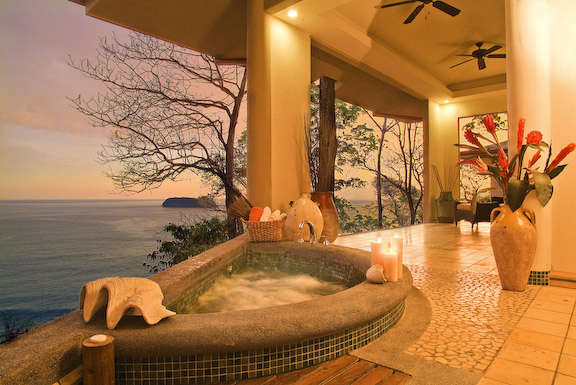 Ocean View Premium Suites at Arenas Del Mar are the best of eco-luxury in the area. They are located on the 2nd or third floor with amazing ocean views and an expansive terrace. It has a private tiled Jacuzzi day bed on the porch, a sitting area with trundle bed, kitchenette, and two bathrooms.