Hotel Costa Verde is one of the closest hotels to Manuel Antonio National Park. There is easy access to the beach and national park where monkeys and wildlife abound.
Hotel Costa Verde Amenities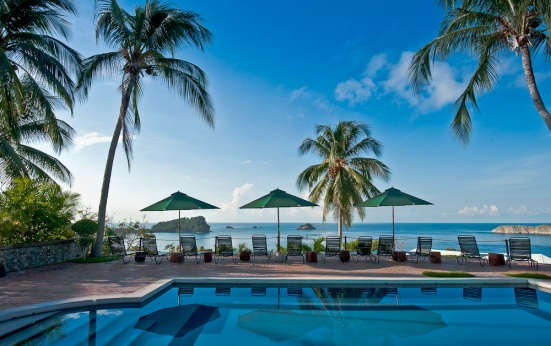 Hotel Costa Verde features three cliff-side pools with sundecks. Their unique version of this tropical oasis is great for a variety of travelers, from families or group to couples and honeymoons. Costa Verde has two private hiking trails to explore. Set out early in the morning to see the most animals! Yoga classes are also offered 6 days a week. The on-site spa services are perfect after a long day of hiking through the park, and four unique restaurants guarantee there's something to please even the most discerning palate.
Hotel Costa Verde Restaurants
Featuring the best of both local and international food, the four unique restaurants at Hotel Costa Verde are sure to satisfy any palate! El Wagon, a casual and vibrantly colorful restaurant, was voted for 2015 as having the best wood-fired pizza in the Manuel Antonio area! Enjoy your nights out at La Cantina BBQ, where live music and the great outdoors can only be trumped by BBQ short ribs, delicious beef cuts, or the variety of fish options. Check out the new Sports Bar located on the first floor of La Cantina for all the most important games!
For a real treat, visit El Avion Restaurant, where not only do the sunsets amaze, but you get to experience informal dining while eating on a plane – a 123 Fairchild that was converted to a pub! Head to Anaconda Restaurant for breakfast or to grab a quick picnic lunch on the way to Manuel Antonio National Park.
Adults-Only at Costa Verde
Let's be honest – for some vacations, you'd rather there weren't any kids around! When you'd rather avoid the busyness of children, consider Costa Verde II, where one of the on-property buildings is dedicated just to adult guests and children 17+ years of age or older! There's even an adults-only pool – so no splashing when you just want to swim a few laps! This pool area has a full-service bar as well as lunch service, and a separate area for spa treatments. The view out over the Pacific Ocean and Manuel Antonio Park are undeniably romantic!
Hotel Costa Verde Rooms
Hotel Costa Verde has 70 rooms built on jungle ridges and bluffs, positioned to perfectly catch the best ocean views and breezes. All rooms contain air conditioning, cable TV, Wi-Fi, safe deposit boxes, coffeemakers, kitchenettes, spacious private balconies, and Balinese-style furniture produced at the hotel's wood shop. With three pools on the grounds, your room is always close to one!
Hotel Costa Verde also contains one of the most unique overnight experiences in Costa Rica – a refurbished 1965 Boeing 727 suite. In its former life, the plane worked with South Africa Air and Avianca Airlines in Colombia. This vintage plane is more than just a cool art piece – it's a unique jumbo hotel suite! Meticulously detailed, the Boeing 727 now contains two bedrooms, one with a Queen-size bed, the other with two Queen-sized beds, a flat screen TV, dining area foyer, kitchenette, ocean view terrace, private entrance, and stunning views.