The modern, boutique-style Wyndham Esplendor Tamarindo Hotel is situated high up on a breezy hilltop overlooking the popular little town of Tamarindo and Tamarindo Beach in the Guanacaste region of Costa Rica. The 104-room, three tower property is located near Hacienda Pinilla, Las Baulas de Guanacaste National Marine Park, and popular regional beaches such as Grande Beach, Langosta Beach, Avellanas Beach, and Flamingo Beach. Horseback riding, mangrove tours, and daily surf lessons are just some of the items that can be arranged from the area.
Amenities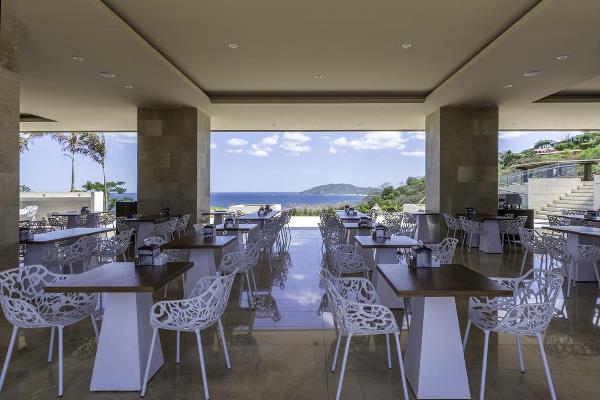 The Wyndham Tamarindo Hotel offers buffet breakfast, lunch, and dinner daily at Pura Vista restaurant, where Costa Rican and international dishes are served up daily. Indoor and outdoor seating is available at the restaurant with sweeping ocean views. The breezy ocean view pool with a view out over Tamarindo Beach and town is a highlight of the property. Every 30 minutes, the Wyndham provides free shuttle service down to Langosta Beach Club, a meeting place with a pool where you can grab lunch and cocktails, and enjoy oceanfront amenities. The hotel also includes a wet and dry bar, fitness room, and full-service spa with a sauna and steam room. Massage treatments may also be available in-room. WiFi is available all throughout the resort, and the front desk is available to guests 24 hours a day. The Wyndham also provides free parking and room service. Dry cleaning and laundry service are available to guests.
Wyndham Tamarindo Ocean View Rooms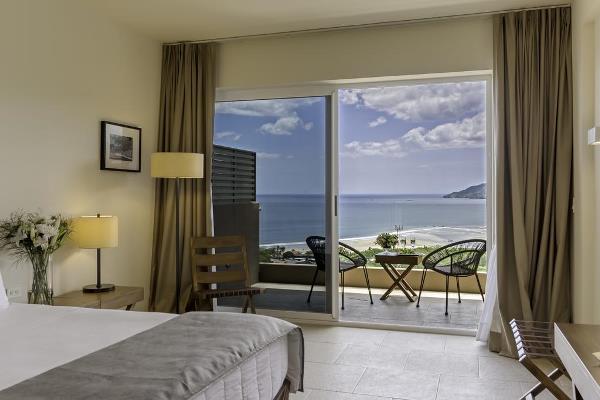 The Wyndham Tamarindo has 104 Ocean View rooms. Each room includes a private balcony with ocean view, king or twin-size beds, A/C and heat, WiFi, a flat-screen LCD 40″ TV, safety deposit box with an electronic lock, telephone, and minibar. Rooms also include a private bathroom with a shower, bidet, hairdryer, and toiletries. Complimentary cribs can be added to the room upon request. All 104 rooms are smoke-free.