Manatus Lodge is a luxury lodge that serves up a sense of peace and comfort with richly appointed rooms surrounded by the wildlife and water canals of Tortuguero.
Other facilities include restaurant, bar, pool, gardens, private forest reserve, art gallery, spa, the internet, laundry service, and gym. Enjoy a first-class experience with their spa, where services include facials, manicures, pedicures, and stone massages. The art gallery on the property is an exclusive collection from the National Artist Marcela Crespo Gallegos. A variety of adventure tours are a few steps from the worldwide famous Tortuguero National Park.
Manatus Tours
Tortuguero contains a huge variety of things to do. Take a boat tour along the canals, keeping an eye out for birds and wildlife along the way. During the right time of year, visit the beaches where you can watch the nesting of the Green Sea Turtle.  Soar above the canopy on zip lines for an amazing jungle view.

Amenities at Manatus Lodge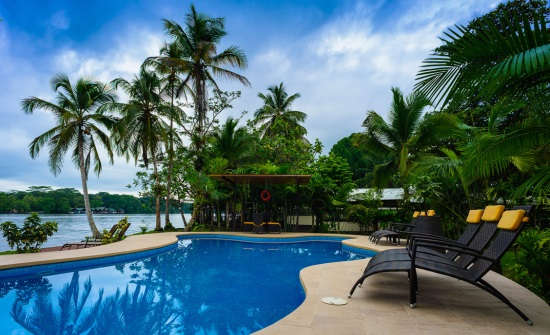 There's so much more to Manatus than just the perfect location, stunning views, and surrounding exuberant greenery. Visit the Ara Macaw restaurant for delectable Afro-Caribbean cuisine, alongside both international and local favorite dishes. This gourmet restaurant definitely knows how to please! For peace and serenity, plus tasty cocktails, the Morpho Bar has an atmosphere that combines the best of relaxation with an undeniable celebratory feel – perfect for special occasions or any romantic tropical evening!
Manatus Lodge Rooms
Manatus Lodge contains 12 luxurious rooms. All rooms contain air conditioning, cable television, mini bar, two Queen-size beds, and a private solarium. The first-class experience is the rule at Manatus Hotel, not the exception! Rooms are spacious with luxury finishes. They are designed to inspire – the classic simplicity of Costa Rica with modern amenities. All of this beauty is surrounded by the serenity of a wildlife sanctuary and water channels, ensuring your comfort and privacy.