Villa Caletas is a tropical Victorian mansion set high on a cliff overlooking the picturesque Central Pacific Coast.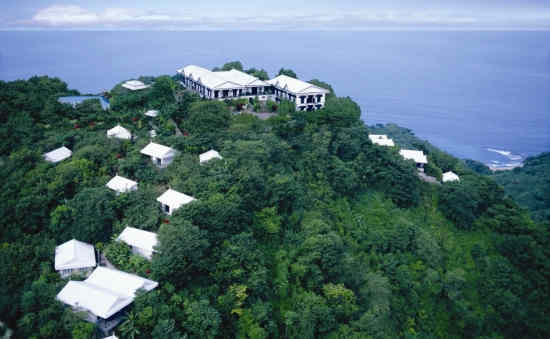 Lush, fragrant gardens overflow with exotic plants and flowers while spacious interiors are filled with art and antiques.
Villa Caletas Amenities
Two restaurants and a bar offer exquisite cuisine and delicious drinks in a romantic ambiance overlooking the Pacific Sea. Enjoy a couple's massage at the Serenity Spa, relax at the infinity edge swimming pool, and explore.
At the bottom of the mountain, Villa Caletas has its own private pebble beach, where you can nap under the coconut trees in a private gazebo or soak up the sun on a lounge chair. Snacks are available at El Pelicano Snack Bar.
Jacuzzi, showers, and restrooms are available. There are also numerous white sand beaches in the area. We recommend having a rental car here for added convenience, to get to the nearby towns and beaches.
Villa Caletas strives for sustainable tourism. Guests are encouraged to save water and electricity as well as to recycle garbage. The hotel has been awarded 4 of the 5 possible Leafs from the Certificate of Sustainable Tourism.
Villa Caletas Rooms
The property has 42 rooms, villas and suites, all with a/c, ceiling fans and satellite TV. The magnificent luxury suites have private pools and whirlpool tubs.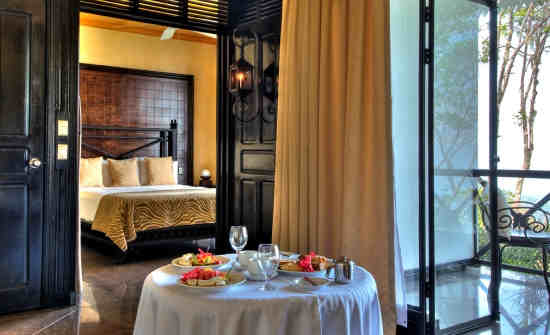 Villas are a great option for families. They feature a terrace, ocean or garden view, living room, and private bath.
The Junior Suites are slightly larger than the villas with better ocean and mountain views from their terrace. Junior Suites include a private Jacuzzi for two people, a small living room, private bathroom, and one queen-size bed.
The Junior Suite Superior is an updated version of the Junior Suite. It features a King-size bed, large closet, sofa bed, and private terrace with Jacuzzi.
The Master Suite is bordered by gardens. The suite includes a private swimming pool, bathroom with tub & Jacuzzi, ocean-view terrace, living room, and one king-size and sofa bed.
Zephyr Palace
Looking for the utmost in luxury and first class service? The Zephyr Palace at Villa Caletas is a luxury mansion atop a mountain, with stunning 360-degree views. The palace is made up of seven luxury suites, each with a unique theme. They are carefully dedicated to decoration and transporting guests to a different time and place. Amenities include cable TV, minibar, DVD player and home theater, jacuzzi, central air conditioning, and security box.
The New World Suite is inspired by Latin art and culture. It has a terrace with outdoor Jacuzzi, king-size bed, large bathroom and stunning gulf views.
The 20's Suite has a terrace with outdoor Jacuzzi, king-size bed, spacious bathroom and elevator access.
The Oriental Suite is inspired by the Middle East with warm colors and rich wood detail. It has two bedrooms and two bathrooms with a Jacuzzi in the master bath. Additionally, the suite has an ocean terrace with a hammock and elevator access.
The African Suite is reminiscent of the African Savannah with greens, gold, and black decor. The suite features 1 king-size bed, spacious bathroom and a Jacuzzi terrace with a hammock.