Set in a thriving nature preserve on the Nicoya Peninsula, Sendero is a peaceful respite that provides a lush hideaway while still having access to all that Nosara has to offer. Sendero means "a short path or trail," and that is what lies between you and Playa Guiones, a gorgeous surfing beach just a few minutes away from the property. With a focus on merging natural beauty with uncomplicated luxury, Sendero effortlessly brings the vibrant and unique atmosphere of Nosara into its accommodations. This gorgeous property also places an emphasis on sustainability and community, making it a welcoming place for all who wish to experience Nosara.
Amenities
Surfing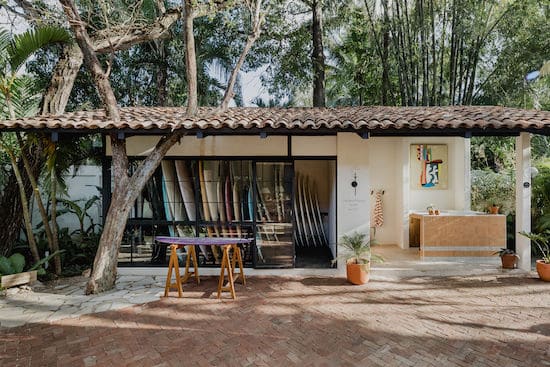 With its close proximity to the beach and consistent waves, Sendero is well-positioned to provide a great surfing experience for every skill level. Offering surf lessons from beginner to advanced, surfboard rentals, and even specialized surf photography, this property's focus on surfing truly encapsulates the spirit of Nosara. Lessons, rentals, and photography sessions can be booked online through Sendero's website or through the concierge. 
Yoga
Sendero provides daily yoga classes that can be booked by appointment on their website or through the concierge. These wellness-focused classes are the perfect way to embrace the gorgeous scenery around you and engage in a classic pastime in Nosara. 
Cuisine
Sendero features its own onsite bar and restaurant, providing guests with both casual and fine dining choices that emphasize the vibrant local community of Nosara. There is also a coffee truck open every morning and afternoon if you're in search of some delicious Costa Rican coffee. 
Accommodations
Sendero's accommodations provide luxurious simplicity, using a muted and earthy palette with modern finishes to bring the laid-back and eco-friendly energy of Nosara into every room. With a range of options, there are accommodations for a variety of travel styles. 
Suites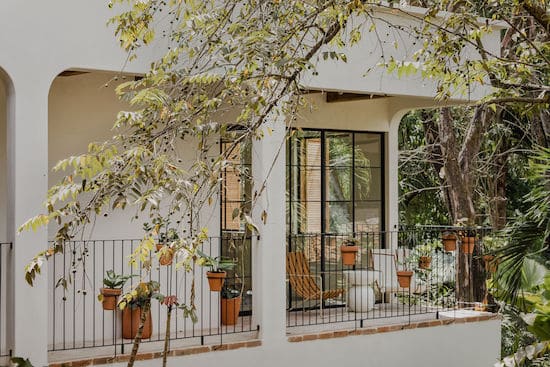 Suites are the largest rooms offered at Sendero. Consisting of a master bedroom with a king bed, a separate living area with a queen-sized pull-out sofa, and large private outdoor areas, suites offer plenty of space to stretch your legs and relax. 
Jungle Rooms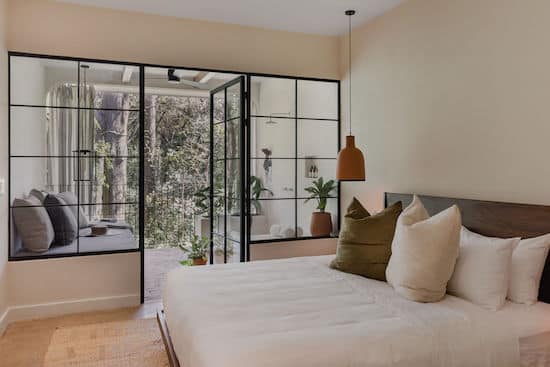 These signature rooms bring the outside in, each of them overlooking the 11-acre nature preserve next door. Each Jungle Room has a large outdoor living space that includes a large daybed and an opulent outdoor shower, allowing you the option to experience both indoor luxury and the lush jungle. 
King Rooms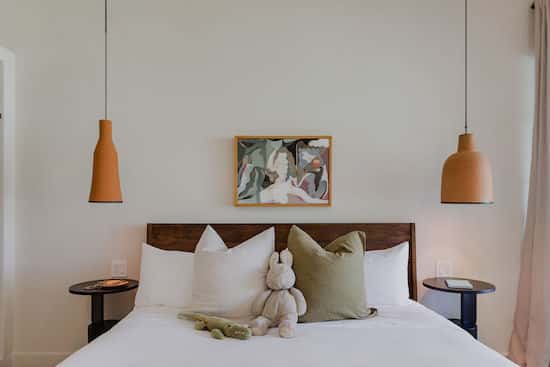 With private balconies over the rainforest courtyard in Sendero's main building, the King Rooms offer an elevated experience with spacious single-room layouts and plush king beds. 
King ADA Rooms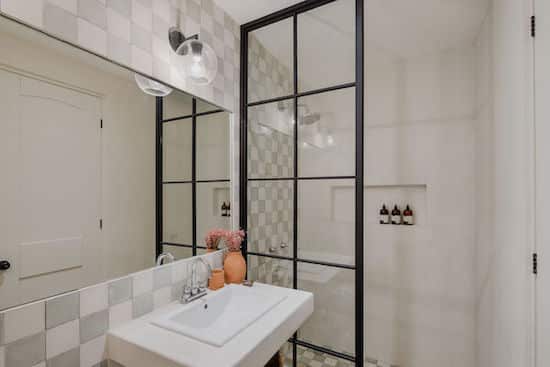 The accessible King Room has a similar layout, space, and amenities to the other King Rooms, but is instead located on the first floor with easy access to the hotel's common areas through a private outdoor space. 
Queen Rooms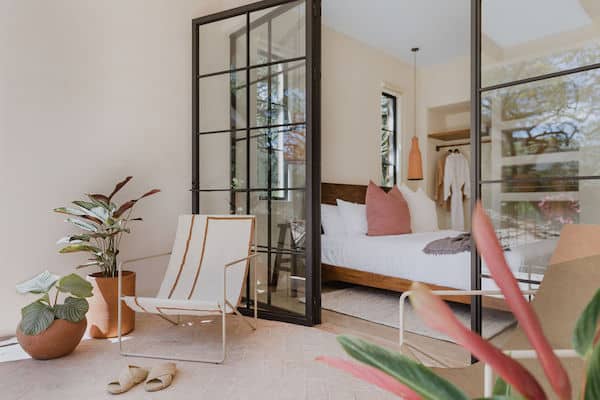 Located closest to the pool and trail leading to Playa Guiones, Sendero's Queen Rooms offer a mix of high-end design and easy access to the property's various amenities. Slightly smaller than the King Rooms, these accommodations provide a functional and comfortable layout with a queen-sized bed and a small sitting area.
All pictures of Sendero Nosara were photographed by Kristen Ellis.