Gaia Hotel & Reserve is located near Quepos on the Central Pacific coast of Costa Rica amidst 12 acres of paradise near Manuel Antonio National Park. Originally, the area was home to the Gaia Garden, a center for the rehabilitation of wildlife and for the conservation of the area. It was a haven for the endangered orchids, many species of which are endemic to Costa Rica. Now, Gaia Hotel is one of the most luxurious and pristine accommodations in the area.
The Gaia Hotel achieves an ideal blend of modern amenities and natural scenery. This eco-friendly hotel only accepts adult and teen guests. The on-site restaurant, luxury spa, gym, tours, and the myriad of personal services will please even the most discerning traveler. Complimentary tours are available from the hotel. Gaia is also a sponsor of a non-profit program that reintroduces scarlet macaws back into the wild in the Manuel Antonio area.
Terra Spa at Gaia Hotel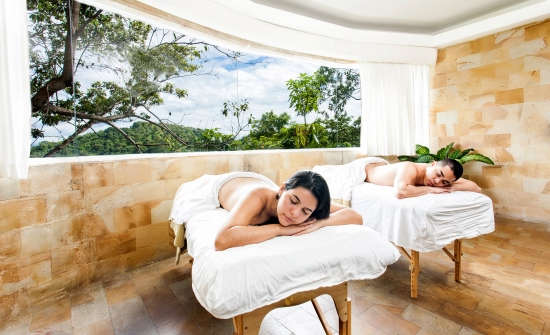 With six treatment rooms and highly-trained specialists, the spa at Gaia Hotel is perfect for all your relaxing needs! After all, isn't that what vacation is all about? Experience their unique treatments that include things like ginger, volcanic clay, and chocolate made out of organic cocoa beans. Both single and couple options are available for everything from aromatherapy or hot stone massages to the delights of the steam room, sauna, or mud bath!
Gaia Hotel Rooms
Nestled in the magnificent coastal forests of Costa Rica, the hotel's well-appointed, terraced Studios, Suites, and 2 Bedroom Villas offer views of lush and pristine wild surroundings that are beyond compare. All of Gaia's rooms are only available to guests age 13 and older.
Gaia Studios
The Jungle View Studio is Gaia's entry-level room with upgrades available to the Studio room. As you might expect, both studios are more compact at 350 square feet. Studio special touches include a personal concierge service, top of the line king size bed with 500 thread count linens, an LCD flat-screen, stereo equipment, one sofa bed, natural wood, and stone floors. These amenities are standard for all Gaia rooms.
Gaia Suites
Gaia's Suites are also available in a variety of levels including the entry-level Jungle View Suite, the Suite, and the Deluxe Suite. The Suite and Deluxe Suite both have a stone shower. Additionally, The Jungle View Suite, Suite, and Deluxe Suite are each 700 square feet.
Two-Bedroom Villa
Gaia's spacious 2,000 square foot 2-Bedroom Villa has two bedrooms, two bathrooms, a dining room for six, Jacuzzi for four, a bedroom terrace and a private rooftop sundeck.