Arenal Manoa Hotel is located close to many of the main attractions in the Arenal Volcano area yet maintains a silent tranquility. Surrounded by gardens, as well as a small stream and old growth trees, this hotel has beautiful views of Arenal Volcano. Visitors are encouraged to take advantage of the beautiful gardens for walks and meditation.
Arenal Manoa Hotel Amenities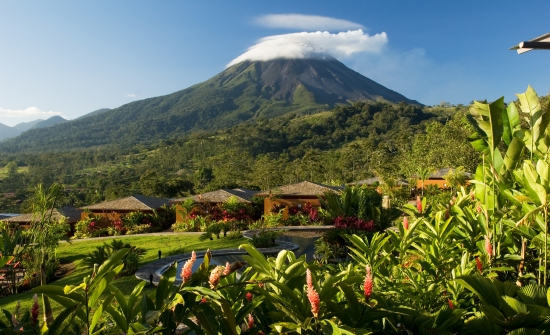 Arenal Manoa has both an adult and a family swimming pool. Both have amazing panoramic views of Arenal Volcano – some of the best in the area! Hotel Arenal Manoa also offers a spa menu, where guests can be pampered with a variety of treatments, such as aromatherapy, reflexology, facial therapies, or a hot stone massage.
Dining at Arenal Manoa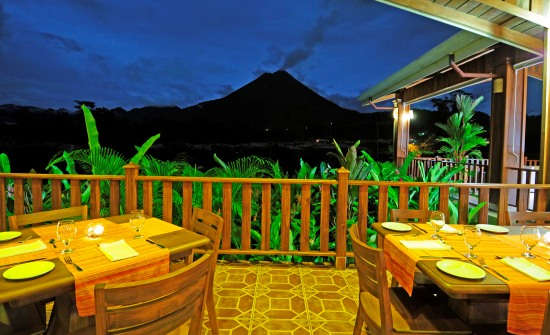 For dinner, La Saca Restaurant serves up both international and local cuisine.  The food is delicious, and the walk through the gardens past beautiful rainforest greenery is a treat to the eye!  In the different pool areas, you will find the Uyuyui and Guipipia Wetbars.  Guests will find delicious tropical cocktails as well as favorite drinks and snacks at these wetbars – perfect for when you don't want to take too long of a break from the pool!
Manoa Farm
Guests have the unique opportunity to see the typical daily operations on a Costa Rican farm. The Manoa farm reaches back to before the tourism boom of the area, when the main occupation of many locals was milk production. A tour of the farm is available, with a walk along the Las Palmitos trail and chances to see sheep, pigs, and chickens, as well as a chance to try out milking one of their cows!
Arenal Manoa Junior Suites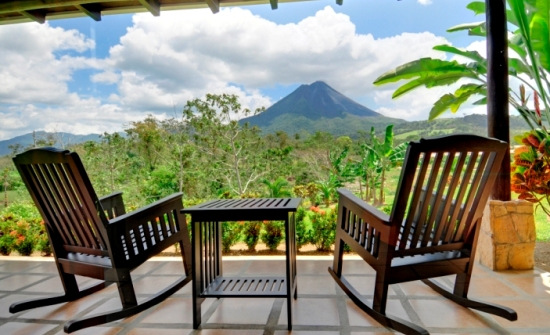 All the rooms at Arenal Manoa Hotel are spacious Junior Suites with complete panoramic views of the volcano and a private sitting area.
Each room at Arenal Manoa is equipped with two queen sized beds, air conditioning, satellite television, hot water, air dryer, telephone, coffee maker and mini fridge.
Modern architecture, a little garden, and a ton of space make these rooms as comfortable as home!