Isla Chiquita Glamping Resort is the only glamping experience in Costa Rica. This brand-new resort is located in the Gulf of Nicoya off of the Nicoya Peninsula. Your adventure will begin in the small town of Paquera where you will travel to Chiquita Island by boat. The resort offers the unique experience of camping on an island in a luxurious setting!
Activities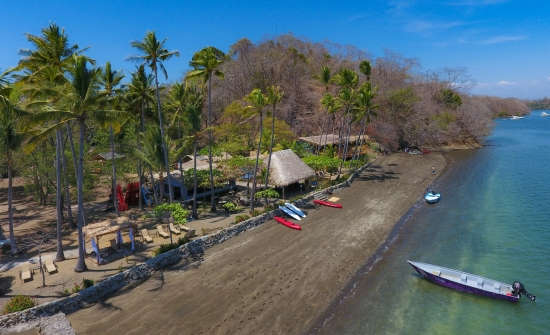 Activities abound on the island with options like hiking, kayaking, birdwatching, and more. Many guided tours are available from the property as well. Book a tour through a local plantation known for its indigenous plantains and sweet guava. Discover the wildlife of the Curu Bio Reserve. Board the resort boat and go beach hopping! Take a day trip to the surrounding islands or go fishing. One very unique tour offered by the resort is the Bioluminescence Adventure in which you can see the ocean light up at night as a result of light-emitting plankton – creating a starry sky effect. Kayaking and stand up paddle boarding are also included in your stay.
Amenities
The property also features a seaside restaurant called Tia Nora with delicious seafood and options for all tastes. Tia Nora Restaurant serves up an extensive breakfast, lunch, dinner, and drink menu with a variety of Costa Rican, American, and vegetarian options. Please note that the resort does not have A/C or a swimming pool and instead relies on the ocean and island breeze to cool off!
Isla Chiquita Glamping in Premium Tents
There are fifteen premium glamping tents at Isla Chiquita. The tents include 1 king bed and one day bed for a maximum occupancy of 3 people.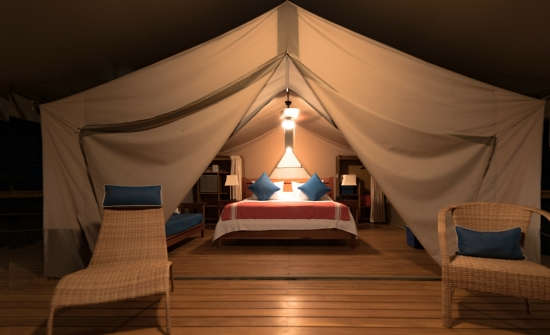 Tents feature a double sink in a full private bathroom, ceiling fans, mini-bar, in-tent safe, solar energy hot water, and a spacious open-air deck with views of the Gulf of Nicoya.