The Makanda Hotel is a romantic getaway outside Manuel Antonio National Park geared toward couples with a local feel. Children under 16 years old are not permitted at Makanda. Inspired by the owner's dream of balance with natural surroundings, the hotel uses nature as a background to its architectural openness, allowing the rich tropical surroundings to become a part of the hotel's environment.
The stunning grounds of the hotel were designed to attract a mix of birds, monkeys, butterflies, and other jungle wildlife, making a stay here seem to become a heightened jungle experience. The tropical breezes are intoxicating when you stroll the beaches of the Pacific Coast, and few things can compare to dazzling sunsets over the ocean.
Makanda Hotel features an infinity pool that has over 4,000 feet of deck space. The hotel is set on a forty-five-degree hillside with spacious viewing decks that seem to reach into the jungle canopy, bringing nature within arm's reach. Makanda is a paradise in truth.
Wildlife at Makanda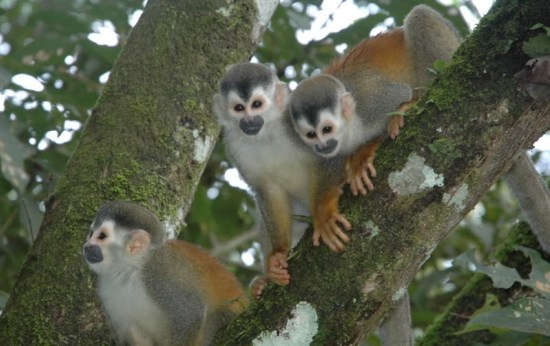 Makanda Hotel is the perfect spot for wildlife and nature lovers! Nearby, visitors will find one of the richest ecosystems in the world – where rainforests, beaches, mangroves, and coral reefs border one another. Manuel Antonio National Park. The park is within walking distance for Makanda guests. There, keep an eye out for everything from sloths and tapirs to several monkey species and the humpback whales that gather off the coast seasonally. Not only that, but Makanda itself sits on a 12-acre wildlife reserve, and guests will delight over the presence of the colorful tropical birds and sociable howler monkeys.
Makanda Accommodations
The Makanda accommodations include the Wow Loft, Deluxe Suite Ocean Club, Pacific Jacuzzi Suite, Honeymoon Grand Pool Villa, Luxury Villa Private Pool, Honeymoon Junior Pool Suite, Luxury Villa for 4 People, and Tropical Suite. Accommodations start at 860 square feet and feature comfortable, chic details and incredible views.
All accommodation levels include complimentary high-speed WiFi, king beds, Nespresso machine, golf cart service around the property, individual controlled A/C, private balcony overlooking the Pacific Ocean, ensuite bathroom with shower and a double sink, robes, fluffy towels, LED smart TV, in-room safe, work desk, laundry service, eco amenities. All rooms are designed for two people and are non-smoking.
WOW Loft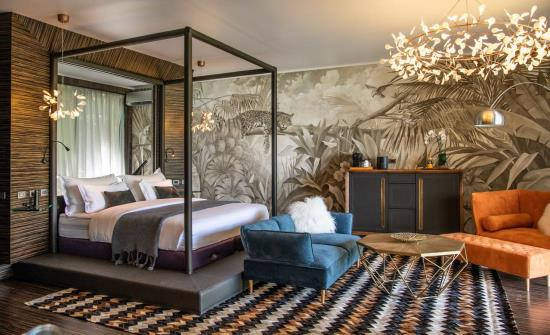 The 861 square foot Wow Loft has one king bed with a Serta mattress and Egyptian satin cotton bedding.. The loft features a private balcony with a lounge zone, ocean and forest views, flat-screen TV, wood floors, and natural leather carpet. The bathroom has marble floors, two sinks, and a separate rain shower and bath. The Wow Loft accommodates a maximum of 2 guests.
Deluxe Suite Ocean Club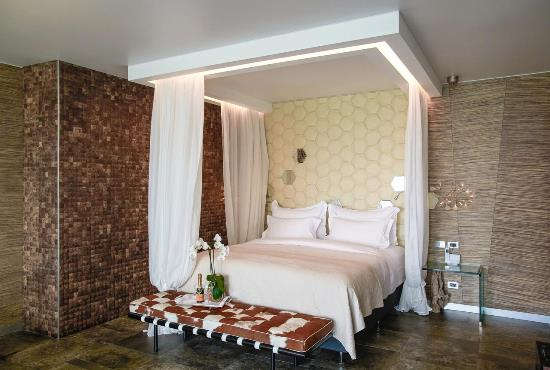 The 861 square foot Deluxe Suite Ocean Club features a four-poster extra-large double bed with silky cotton sheets, Panasonic ECO air conditioning, Carrara marble bathroom, full audio system, large flat-screen TV with subwoofer, natural materials, and luxury details. There is a safe with fingerprint recognition system and security provided smart-lock of the latest generation. The Ocean Club Deluxe Suite is situated just 150 meters from the coastline. In the evening, listen to the sound of the surf from your spacious balcony. Capacity: 2 guests.
Pacific Jacuzzi Suite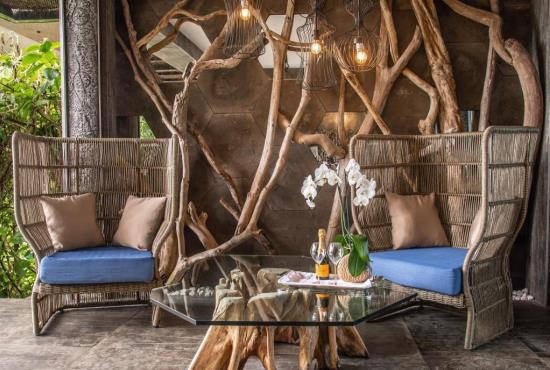 The Pacific Jacuzzi Suite has incredible views of the oceanfront and jungle. The luxurious suite includes one extra-large double bed, studio-style living room, terrace with large Jacuzzi and daybeds, walk-in closet, fully equipped kitchen with tea/coffee making supplies. Capacity: 2 guests.
Honeymoon Grand Pool Villa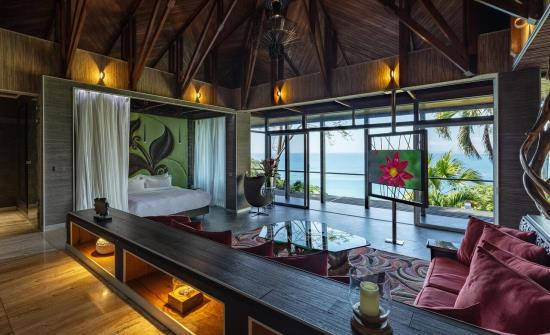 The 1076 square foot Honeymoon Grand Pool Villa is perfect for honeymoons, anniversaries, babymoons, weekend escapes, or other special moments. The hardwood vaulted ceilings, plunge pool, and panoramic ocean view from the spacious balcony with hot tub are a highlight of the Honeymoon Grand Pool Villa. The villa has a fully equipped kitchen, marble bathroom, king bed with their signature silky cotton linen and custom European Teach mattress, and glass sliding doors to the private balcony. Capacity: 2 guests.
Luxury Villa Private Pool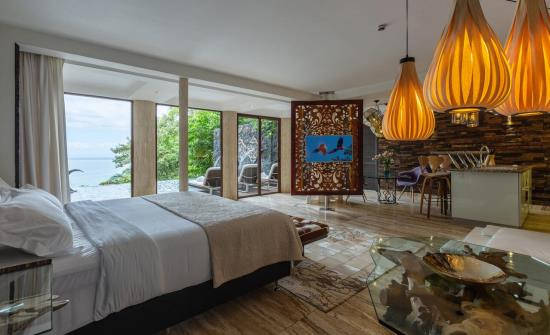 This 1615 square foot Luxury Villa has a private terrace with a plunge pool, waterfalls, and rattan beds, facing the ocean. The luxury villa has a king bed, walk-in closets, a "smart house" system, a fully equipped up-to-date kitchen, flat-screen TV, a dining room with a teak dining room table, and a luxury interior complete with marble floors. Capacity: 2 guests.
Honeymoon Junior Pool Suite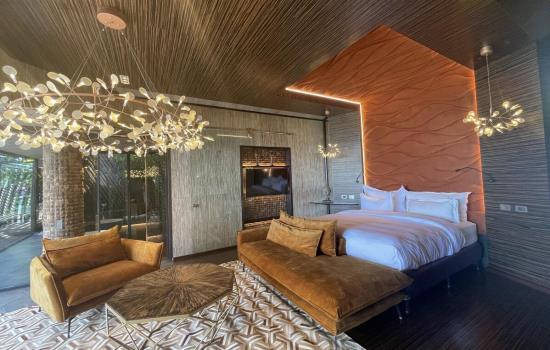 The 807 square foot Honeymoon Junior Pool Suite is the perfect escape for couples furnished with all the modern amenities. It features a terrace with an ocean view and a private pool-bath, a king-size bed with Silky Cotton linen and custom European Tech mattress., and a fully equipped kitchenette. Capacity: 2 guests.
Luxury Villa 4 People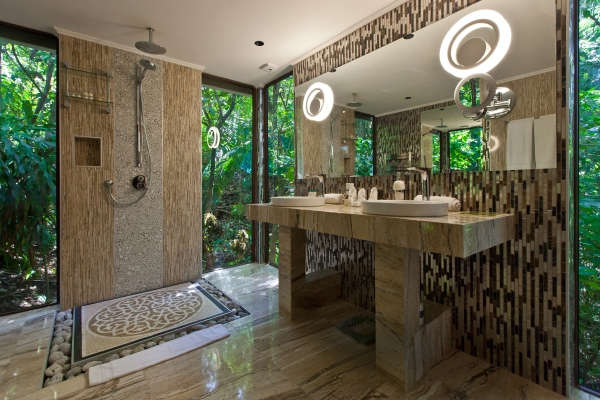 The Luxury Villa can accommodate four people with a king bed and a queen bed located in two separate rooms. The villa has marble floors, a terrace with ocean views, walk-in closets, a "smart house" system, and a fully equipped kitchen. The living room has a flat-screen TV and dining room with a teak dining table. Capacity: 4 guests.
Tropical Suite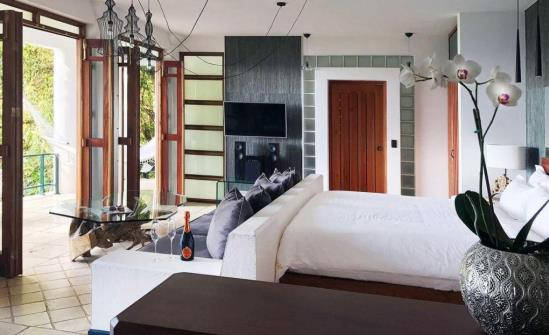 The 950 square foot Tropical Suite has vaulted ceilings and a large garden. It has a king bed, large wrap-around sofa, a fully equipped kitchen, shower, phone, sound system, cable TV, and hairdryer. There is also a dining space on the terrace, chairs, and a hammock.