Tucked away on the north Pacific Coast of Nosara, Costa Rica, Tierra Magnifica Boutique Hotel features a sprawling view of jungle and ocean. Discover an intimate escape on the off-the-beaten-path beach escape on Playa Guiones in the soulful town of Nosara.
The Beach Club
Tierra Magnifica guests have complimentary access to The Beach Club at Gilded Iguana, your beach activity headquarters during your stay. This brand-new space is a haven for both surfers and loungers with towels, bathrooms, board rentals, and storage. Surfboard and boogie board rentals are available at an additional cost.
Tierra Magnifica Activities
Various activities are offered including Beach Horseback Riding, Ostional Turtle Nesting Tour (seasonally), Standup Paddleboarding Ocean Tour, Standup Paddleboarding Mangrove Tour, Boca Nosara Wildlife and Birding Kayak, Zipline Tour, Sport Fishing, Suba Diving (PADI certified guests only), Ecological Restoration with Costa Verdes, Mala Noche Waterfall & Wildlife Adventure, Early Morning Birding & Wildlife Hike, Nosara Tennis Center, and Nosara Mountain Bike Tours. Additionally, a meditative waterfall trail is accessible right on the property.
Huacas Restaurant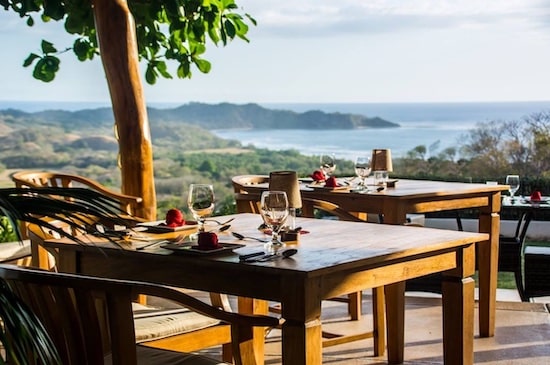 Embark on a Costa Rican culinary and mixology experience at Huacas Restaurant run by chef Paulo Valerios. The restaurant with open-air bar is conveniently located at the center of the resort, an ideal gathering place to lounge and leisurely appreciate delicious food and wonderful views. They are happy to accommodate all diety restrictions and desires.
Wellness at Tierra Magnifica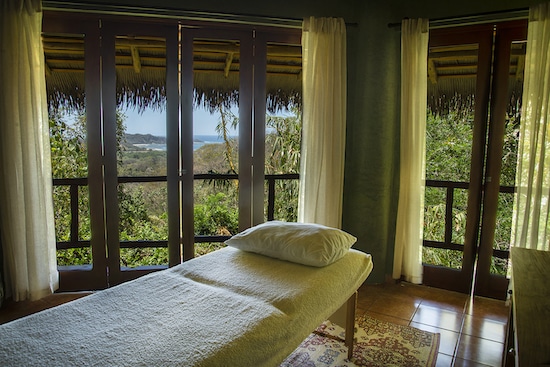 Unwind with Tierra Magnifica's world-class yoga, spa, and detoxification treatments with unique ingredients inspired by the local community. Private yoga classes with the best teachers are available upon request. Additionally, lush waterfall and nature trails on the property will bring you closer to wildlife with wooden meditation decks discreetly placed in the forest.
Rooms
Four different amenities are available at Tierra Magnifica: Vista Suites, Master Suite with a connecting room, Vista Rooms, and the Brisa Room.
The Vista Suites
The 550-square foot Vista Suites are the newest addition to Tierra Magnifica. The spacious suites feature incredible ocean view balconies, 1 king-size bed, air-conditioning, WiFi, and large lounge spaces with chairs, tables, and desks custom-designed in Bali.
The Master Suite with Connecting Room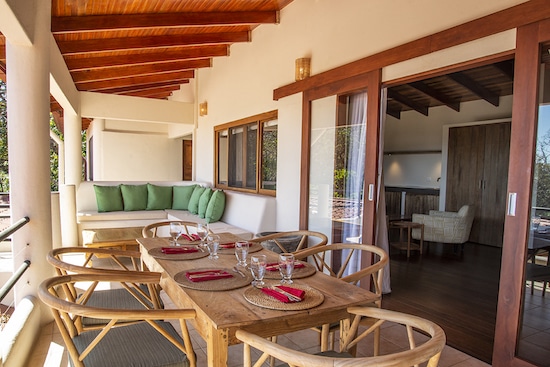 The Master Suite with Connecting Room is, as Tierra Magnifica calls it, the room de la creme. Combine the Master Suite with a double queen connecting room, and you have the ultimate setup! The Master Suite has 1 king-size bed, one daybed, 1 1/2 bathrooms, a balcony with a commanding ocean view, air-conditioning, indoor lounge space, and a private dining area on the balcony serving up to eight guests. The main bedroom has two closets, a double sink vanity, a coffee table, and a writing desk. The lounge room connects to the Brisa double queen room to create the perfect two-room suite for up to seven guests.
The Vista Rooms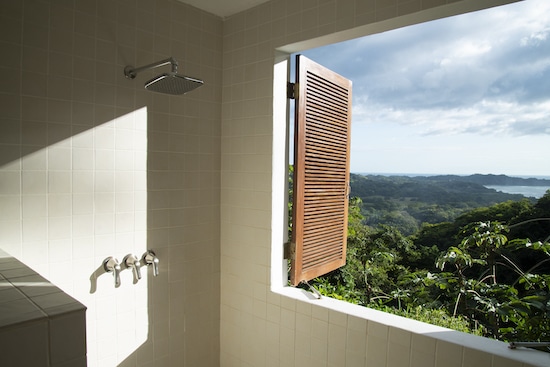 This single king-bed Vista Room has views that look out onto miles of jungle and beachfront. The Vista Room has a large ocean-view balcony with double doors, an ocean-view shower, air-conditioning, WiFi, and a writing desk.
The Brisa Room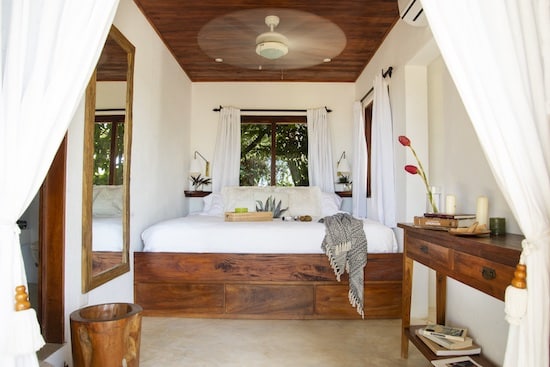 The Brisa Room has both single and double room options, both offering seclusion and lush forest and ocean views beyond. The Brisa Single has a king-size bed with a private bathroom, a sprawling porch view of the jungle and ocean, air-conditioning, and WiFi.