Tucked in Panama City's financial district, The Bristol Hotel Panama introduces you to the city with dramatic views and inspiring architecture in a purely luxurious setting.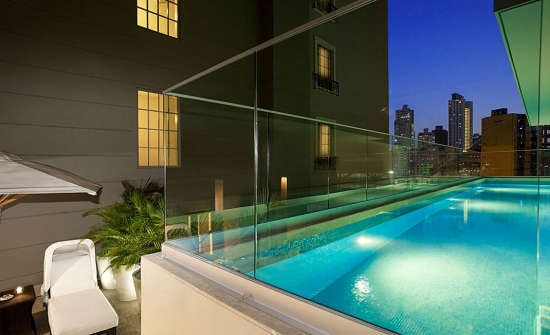 This 119-room upscale hotel is just a walk away from Panama City attractions and shopping, dining, and culture.
Bristol Hotel Amenities
Experience authentic Panama cuisine at the SalSiPuedes Restaurant and Bar, where the food is just as inspiring (and tempting!) as the rest of the city! Looking for something a bit more casual? Pop over to the SalSiPuedes Bar, where guests can find not only drinks and snacks but also main course dishes and a delectable and well-known burger! Chef Cuquita Aria de Calvo was recently noted by Saveur magazine as one of the 100 best chefs in the world – and she's the only Latin American chef on the list.
After a day of tours, spend some time at the Spa at Bristol Tower, where you'll be restored to wellness and relaxation with a variety of therapies, including shiatsu facials or an obsidian rock massage. Relaxation and tranquility rest at guests fingertips while staying at the Bristol Hotel.
Bristol Hotel Rooms
All rooms at The Bristol Hotel Panama feature a 42″ LCD Cable TV, fully-stocked minibar, a coffeemaker, in-room safe, air conditioning, and an iron and ironing board. All guests also have access to butler services 24 hours a day. Accommodation options include the Deluxe Room, Studio, Tower Executive Room, and the Executive Residences.
The 430-square ft. Deluxe Rooms are located in the classic tower. Rooms can be arranged to include a king-size bed or two double beds.
The 406 square ft. Studio Rooms are located on the upper floors of the contemporary tower. Rooms can be arranged to include a king-size bed.
The 559 square ft. Tower Executive Rooms are located in the contemporary tower with beautiful views of Panama City.
The 1699 square ft Executive Residences at the Bristol Hotel are by far the largest guestrooms in the city. With a fully equipped kitchen, a large living room, and one bedroom with king-size bed, these residences are as luxurious as they come! All residences include Italian marble bathrooms, state-of-the-art appliances, and luxurious bed linens with Egyptian cotton.