Hotel Banana Azul is a small and simple hotel that borders a virtually uninhabited stretch of sand on the Caribbean Coast. The miles of beach available around Puerto Viejo promises that guests can always find a bit of sand just for themselves! This is truly the secluded tropical vacation. Blooming gardens adorn the property, as do several freely-hanging hammocks, providing the perfect spot for afternoon napping or leisurely reading.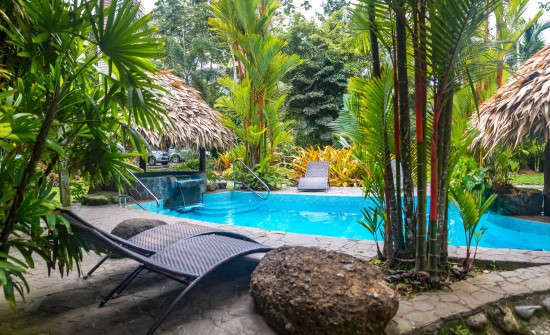 Puerto Viejo also offers some of the exciting adventure tours that are becoming known as a must for visitors to Costa Rica.  Take a hike through the dense Cahuita National Park, take a dolphin-watching boat tour, or soar above the treetops for a unique view with a Caribbean zipline canopy tour!
Facilities at Hotel Banana Azul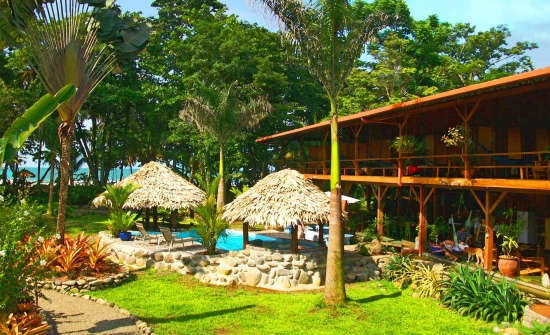 The brand new pool and 8-person Jacuzzi which flows into the pool are simply divine. The motto for the restaurant and bar at Hotel Banana Azul is "Fresh & Simple." With only the freshest ingredients and a complete distaste for processed foods, the restaurant is delicious! Delicious ingredients combine to create international and Caribbean fusion meals which can please even the pickiest eater! Dinner menus are formed to always include a chicken or beef dish, a fish option, and a vegetarian option.  Vegetarian, dairy-free, and gluten-free options are available for guests who ask.
Hotel Banana Azul Rooms
The accommodations consist of twelve beautiful guest rooms, which include private baths, fans, and free wireless internet. Most rooms are on the second floor of the main building and open onto a large veranda with sweeping ocean views.
There are, however, garden suites which are larger and come equipped with satellite TV and an open-air bathtub set in a private garden. Some rooms at Hotel Banana Azul have air conditioning, others do not.