The Rio Perdido Hotel & Thermal River is located about 1 hour from the Liberia international airport in Bagaces in Guanacaste on a 600-acre private nature reserve with the Rio Perdido River at its focal point.
Amenities
Rio Perdido has three thermal mineral swimming pools: hot, warm, and cool. The Restaurant is committed to sourcing local and fresh ingredients to create authentic Guanacaste dishes. Additionally, the restaurant features sweeping views of the Miravalles Canyonlands and surrounding Dwarf Forest. Two bars and room service are also available to guests.
Rio Perdido Thermal River
The Rio Perdido thermal river is the focal point of the nature reserve. The river is heated by the surrounding Miravalles Volcano lowlands. The rich minerals and energy present in the soil have created dozens of natural springs of varying temperatures in which travelers can relax and enjoy.
Rio Perdido Activities
In addition to the thermal river, there are more than 10 miles of hiking trails and several hanging bridges throughout the reserve. Bikes are available for rent to discover the 12-mile network of bike trails on-site. Other activities at Rio Perdido include white canyon tubing, volcanic mud bathing, canyoning with a "Tarzan swing," the spa, and shopping at The Workshop and Artisan Store. From the hotel, visits to Palo Verde National Park and Llanos de Cortes Waterfall can be arranged.
Rio Perdido Bungalows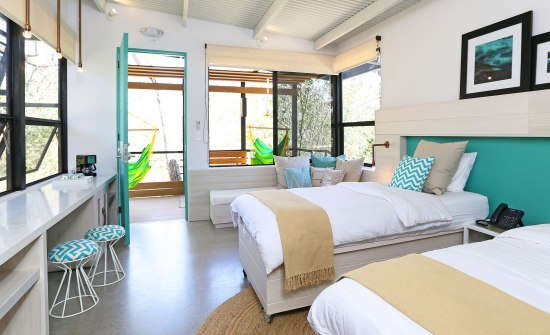 Rio Perdido has 20 elevated treehouse style bungalows. Each crisp, minimalistic bungalow is uniquely designed but showcases the same amenities.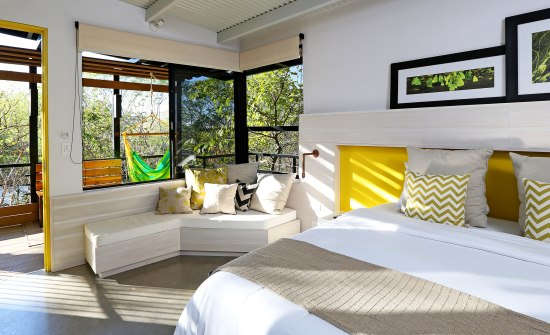 Bungalows consist of a bedroom, bathroom, day sofa, smart LED TV, music dock/alarm clock, coffee and tea maker, safe, WiFi, A/C, mini bar stocked with healthy snacks, Cable TV, and a floating balcony terrace with two comfortable hammocks.
Related Article: Rio Perdido Hot Springs Hotel Review