The JW Marriott Guanacaste Resort sits on a 4,000-acre development in Guanacaste called Hacienda Pinilla, which was designed with Guanacaste's cultural history in mind. Also on the property are Avellanas Beach and La Posada Beach Club – both available to guests during their stay.
Upon arrival, one notices the regional décor, which hints at the Spanish influence of the colonization period. The architecture and thoughtfully placed artwork provide a cultural touch that many big-name resorts can't quite match.
Amenities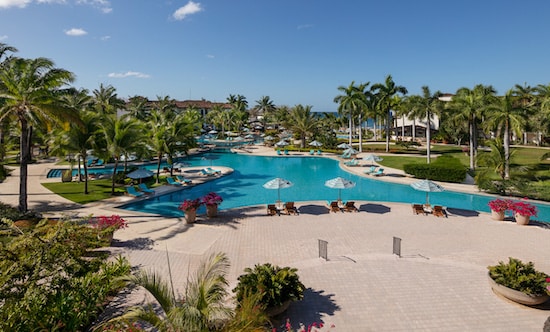 The resort has access to 3 beaches and a residential community. It also has the largest swimming pool in Central America, perfect for family vacations. The development contains an existing championship 18-hole golf course, free-flowing pool, world-class spa, equestrian center, tennis courts, villas, and beach houses.
JW Marriott Guanacaste Spa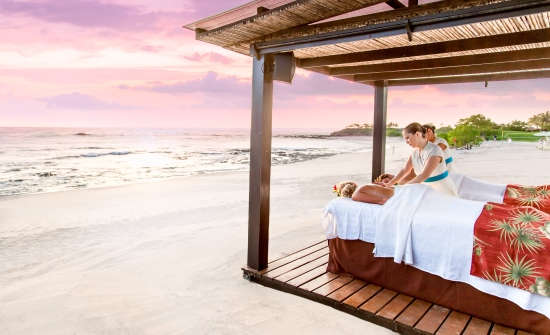 Let's not forget one of the resort's most prized features: the spa. Perfect for a quiet and relaxing moment, the facilities feature indoor and outdoor treatment rooms to give you a customized wellness experience. The list of treatments – from beach massages to purifying facials – gives a calming touch to this bustling hotel. Enjoy the serenity and take delight in local Costa Rican aromas and ingredients, then emerge feeling renewed. Ah.
JW Marriott Guanacaste Rooms
The resort's 310-room spacious accommodations include 20 One-Bedroom Suites. Guest rooms at the JW Marriott are luxurious and spacious, with a private balcony or terrace.
There are amazing views out over the Pacific Ocean from rooms higher up in the buildings. Bathrooms contain a deep soaking tub and shower. Wi-Fi is available throughout the guest rooms and the resort, for a fee. With many adjoining rooms, the JW Marriott is a great choice for groups or families! Guest rooms are air-conditioned and non-smoking, with either one King-size bed or two doubles. Many of the rooms at the JW Marriott are also accessible for individuals with disabilities or those who can't walk far.
Looking for something a bit extra? The Presidential Suite is spacious and tastefully decorated. It includes a separate dining room and living room, a walk-in closet, and a personal plunge pool!
*For more information on the JW Marriott Guanacaste, read our Resort Review.